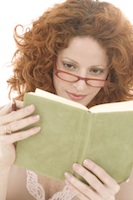 I often meet fantastic professional women who talk about chucking in the rate race and 'running away with the circus' or taking on whatever their dream job would be.
I used to harbour dreams of running a book store, where I could talk about amazing books with equally besotted bibliophiles. Even in this day and age of the e-reader and declining library memberships, I still love the smell and feel of a book and will often buy a physical copy of a book after I've read it on my IPad or listened to a recorded audio version, just so I have the memory of it on my bookshelf.
Well it turns out I'm not alone, and so in a ode to women who follow their dreams, I wanted to point out one of the funniest and most poignant "Top 25″ lists I've read in many years. Compiled by a American lawyer who, after putting her kids through school, decided to open a used book store. Entitled "25 Things I Learned From Opening a Bookstore", the list is fantastically funny, but I was also struck by the hundreds of comments she received of support; others who are inspired by her example and who love good ol' fashioned books just as much as she does – and as much as I know many of you do. I hope you enjoy it as much as I did.
Do you prefer to read a 'real' book?