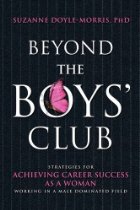 If you are stuck for what to get that favourite female breadwinner in your life this Xmas, look no further with these 5 recommendations.
1. The Observations by Jane Harris
2. Gone Girl by Gillian Flynn
3. Fingersmith by Sarah Waters
4. The Immortal Life of Henrietta Lacks by Rebecca Skloot
5. The Road from Coorain by Jill Kerr Conway
We'd also recommend 'Beyond the Boys' Club: Strategies for Achieving Career Success as a Woman Working in a Male Dominated Field' as a stocking stuffer!