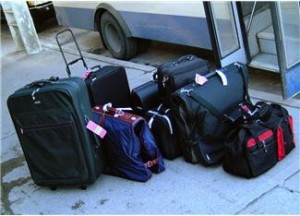 With conferences, seminars and client meetings taking place all over the globe, professional women often have to travel to take their career forward. One European client of mine, brought her mother-in-law to a week long conference in San Diego to take care of her 5 month old baby. She expressed breast milk in between plenary sessions! Many working women, especially single or nursing mothers, feel that they must reduce travel and consequently slow down career growth when their children are small. While travelling with children is difficult, there are ways to make it more manageable.
Here are 5 simple ways you can have a hassle free trip with your child for that all important weekend seminar:
1. Child-friendly hotels
Many hotel chains understand their largest growing demographic is business women. An article on 'What Women Want: Hotels Look to Cater for More Female Business Travelers' by CNN stated, "A woman might choose a hotel for business travel and then, if she likes it, go back for a weekend stay, or book the room again with the family. Hotels are starting to realize that when it comes to travel decisions, women are really influential." With a little bit of research, you can find a hotel that provides discounted family rooms, free access to children's play areas, day care facilities and even storage of expressed breast milk.
2. And what do you want to do while we're away?
If they are old enough to have a 'vote', it is extremely useful to plan the trip taking your child's wishes into account. Planning evening trips to places your child is excited about visiting can make the journey a happy experience for everyone. An article on Flying Solo: Travel Tips for Single Parents on Oprah.com states, "Have the kids participate in the logistics, like reading maps or finding the gate at the airport. Not only does it keep them engaged, it helps them develop necessary skills." One of my client often takes her daughter away when feasible, and lets her choose what kind of meal they have in the evening as a 'treat' for entertaining herself well when her mum needs to be in meetings.
3. Keep safety on top of your priority list
Always make sure to have an emergency plan. In the event that the kids are somehow separated from you, do they know what to do and what not to do? Ensure your children have your cell phone numbers, your hotel is high security and you have an emergency kit in your pack. Introduce them to the concierge and let them know if you are expecting any visitors, like your husband or equally importantly, if you aren't.
4. Watch out for airline queues
It is dangerous to leave your luggage and run behind an active toddler while standing in the long check in queue. It is advisable to do web check-ins 24 hours in advance. Put your child in a stroller while waiting for boarding announcements. Don't forget to take advantage of any pre-boarding rights you have since travelling with children. You can also book travel from airport to your destination in advance to avoid standing in another queue after a long flight. Pack in plenty of games and snacks to keep the children busy during waiting periods. While most airports have toilets that have nappy changing facilities, airplanes do not. Although babies are unreliable at the best of time, take advantage of the changing facilities you can up until the last minute!
5. Get Support from Anyone who Will Give it
An article on Single parent travelling tips on parenting.com states, "The flight attendants are there to help, so if you need to use the bathroom, kindly ask one to hang out in your section and keep an eye on your tot while you do your business." Similarly, you can request assistance for tasks like nappy changing and feeding as well. There are no prizes for the martyred working mum. Ask for and use any support people will give you, from sweets to quiet a cranky child to people who will help you lift a stroller up an escalator. Enlist the help of your partner, if s/he can travel or your own parents or in-laws. Even consider bringing a babysitter if your work budget stretches to it – often they would love the chance to go out in a new city if you give them a few nights off.
Consider all your options before assuming travelling for work after you've had little ones is a not worth the assumed headache!