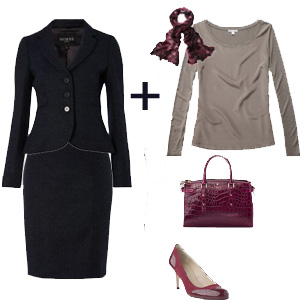 As I used one of my Christmas break afternoons to weed through my closet I noticed that New Year is a great time to ask yourself: "Does your business image accurately reflect your personality?" I've invited Maria Sadler, Director of Capsule Wardrobes to write on why this is such an important question ahead of "Capsule Wardrobes for Busy Professional Women" on January 30th, at the University Women's Club in Mayfair.
Maria says: "Creating positive impact and building business relationships are based on the 'message' your image sends out to others, before you have even said a word. In a business environment, dressing to complement your professional image reinforces your seniority and even hints at your level of ambition. However, it's also a great way to express your individuality.
I was recently reminded of this at a conference for mid-level managers in IT. In the first few minutes, while people were helping themselves to morning coffee, I spied one of the few other women in the room. Julie was wearing a fitted navy skirt suit and tailored white shirt – a classic most of us have in our wardrobe.  Julie certainly looked professional, but her outfit lacked personality. When I approached her she immediately complimented me on my favourite red cashmere abstract print scarf. We spoke for a few minutes and I was delighted to find she was incredibly funny, with a great turn of phrase and wicked laugh. The truth is I was initially intimidated and her warm personality was not reflected in her outfit. As she had a client facing role it made me wonder how long she had to engage with clients before she broke the ice.
Suzanne and I have often remarked on comments we've received on a great cherry red patent leather handbag or leopard print shoes. Make no mistake, we both strive to look professional and will even err on the side of conservatism if need be. However, we all know a well chosen handbag is more than just somewhere to keep your keys! It can be a great ice breaker and a way of discovering how much you have in common with a new colleague or client.
Being well turned goes beyond vanity; it shows you mean business.
At the January 30th "Capsule Wardrobes For Busy Professional Women", we will be discussing adding personality to your professional wear plus:
Why a Capsule Wardrobe will save you Time and Money
How to lose the "battle Armour" but still look like the boss
Packing for a week's business trip in minutes using just carry-on luggage
How to express your femininity & personality but still be professional
Make up & hair essentials for a polished professional look in 10 minutes