"Philanthropy is commendable, but it must not cause the philanthropist to overlook the circumstances of economic injustice which make philanthropy necessary" – Martin Luther King, Jr.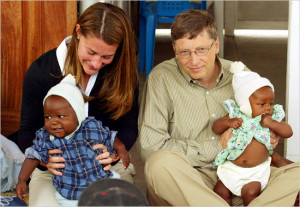 At FemaleBreadwinners, we recognise not only the direct advantages women as leaders bring to the table, but also the beneficial effects they have on the men around them. The presence of women can make men gentler and more empathetic towards others. In fact, some of the world's most charitable men acknowledge their inspiration towards charity was provided by the women in their lives.
Bill Gates, for example, has often credited his charitable work to the women around him. The Bill & Melinda Gates Foundation, is the largest transparently operated charitable foundation in the world. As of 2007, Bill and Melinda Gates were the second-most generous philanthropists in America, having given over $28 billion to charity; the couple plan to eventually donate 95% of their wealth to charity. They are tireless advocates in challenging other millionaires to do the same.
An article in the New York Times entitled 'Why Men Need Women' reflected: "Twenty years ago, when Bill Gates was on his way to becoming the world's richest man, he rejected advice to set up a charitable foundation. He planned to wait a quarter-century before he started giving his money away, but changed his mind the following year. Just three years later, Mr. Gates ranked third on Fortune's list of the most generous philanthropists in America. In between, he welcomed his first child: a daughter."
Gates has credited two female family members — his mother, Mary, and his wife, Melinda — with being the major catalysts for his philanthropic surge. Mary "never stopped pressing me to do more for others," Mr. Gates said in a Harvard commencement speech. A turning point came in 1993, shortly before he and Melinda married. Before the wedding, Mary read a letter aloud she had written to Melinda about marriage. Her concluding message was reminiscent of the Voltaire mantra that great power implies great responsibility: "From those to whom much is given, much is expected."
Along with guiding much of the Bill and Melinda Gates Foundation's philanthropy, Melinda played a pivotal role in shaping the Giving Pledge. She has set in motion that likelihood that in time, the Gates may well become better remembered for their philanthropy than his technology. It's often said that behind every great man stands a great woman. After seeing the profound effect women have had on Bill Gates' generosity, it might be more accurate to say that with every great man walks a great woman. If we're wise, more men will follow when she leads.
How can we get corporate leaders to act philanthropically?