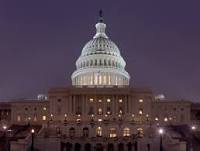 I wanted to highlight the recent American near financial crisis that was averted, largely thanks to the efforts of a Democratic and Republican women. These women, led by Senator Susan Collins, a Republican started brokering the deal that put the American people ahead of divisive "politics as usual". Collins remarked: "I don't think it's a coincidence that women were so heavily involved in trying to end this stalemate. Although we span the ideological spectrum, we are used to working together in a collaborative way." One of her colleagues, Senator Lisa Murkowski, another Republican, explained to the New York Times in an article: Senate Women Lead in Effort to Find Accord, the cost of putting aside increasingly divisive party politics: "I probably will have retribution in my state. That's fine. That doesn't bother me at all. If there is backlash, hey, that's what goes on in D.C., but in the meantime there is a government that is shut down. There are people who are really hurting."
Remarkably women make up just 20% of US senators, but were roughly half of the eventual group who finalised the deal. You know you're witnessing something unusual when Senator John McCain, the former Presidential candidate proclaims: 'Leadership, I must fully admit, was provided from women in the Senate'.
An article in Time magazine entitled: 'Women are the Only Adults Left in Washington' explains how Republican Susan Collins took to the Senate floor, after weeks of bickering and blame between the two parties, and implored her colleagues to come together with the message: 'We can do it. We can legislate responsibly and in good faith.' That clearly shouldn't be rocket science, but as the article explained: Most of the Senate's 20 women had gathered the previous night for pizza, salad and wine in the offices of New Hampshire Senator Jeanne Shaheen, a Democrat. All the buzz that night was about Collins' plan to reopen the government with some basic compromises. Perhaps a slow change is coming to Washington, led by women.
According to Time: 'Cigars and poker are out. The women's club offers some of the same benefits that came in the original men's version, as well as some updates: mentor lunches and regular dinners, started decades ago by Mikulski, the longest-serving woman in the Senate, but also bridal and baby showers and playdates for children and grandchildren. An unspoken rule among what Collins calls "the sisterhood" holds that the women refrain from publicly criticizing one another. And there is a deep sense that more unites them personally than divides them politically. North Dakota Democrat ­Heidi Heitkamp said: "One of the things we do a bit better is listen". "It is about getting people in a room with different life experiences who will look at things a little differently because they're moms, because they're daughters… because they have a different life experience than a lot of senior guys in the room."
It's refreshing to hear a good news story about women, particularly one coming from one of the strongest old boys' clubs of all: Washington D.C. But we'd also say that it shouldn't take a impending economic meltdown for people to see the value of a more collaborative style of working and the benefits of women's leadership.