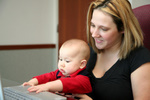 If you haven't seen the recent BBC two-part show on 'Babies in the Office' check it out on IPlayer. I have to admit, I was skeptical that bringing small babies into a working environment could work. Children need constant care and a full time paid role is utterly demanding for anyone – whether they have a child on their lap or not. The show covered a one month experiment whereby Addison Lee, a UK taxi hire company, became the first British company to allow parents the opportunity to bring their babies and toddlers to work with them. This trial was based on the success the model has had in some U.S. firms.  It would be harder to come up with a tougher environment for this to work in, as participating parents ranged from call centre operators up to senior management.   This was not a nursery set up where parents could pop in and see their children on tea breaks – babies sat next to their parents and colleagues in an open plan office setting.  Talk about a trial by fire!
The initial benefit was that it allowed women who might not have been able to afford to return to work, because of the high cost of childcare, to continue their careers with the firm.  Most, including the MD, Liam Griffin, were initially skeptical the programme could work. But amazingly – it did. Sure, it was not right for every parent and colleagues did take time to adjust to having their calls interrupted by crying or cooing babies – but amazingly, the programme worked so well they decided to extend it permanently. They found the expected benefits of higher morale amongst the returning mothers, women choosing to return from maternity leave earlier and loyalty from employees who felt they could continue their career at such a forward thinking organisation.
What surprised me was the unexpected benefits. By the end of the trial, many men were very positive even saying they 'missed the babies' and that it made them too consider bringing their own children or even future children in. Additionally, it gave the company a new USP among customers for being modern and family friendly. As demanding as some of the children were, staff reported that their presence lightened the mood across the organisation. As I watched the programme, based on the knowledge they took from their US counterparts and their own experiences at Addison Lee, there were a a few characteristics that seemed to make such schemes work:
1. Adjust targets for participating parent : Caring for small children is demanding, but the companies where it works are willing to be flexible around the participating parents normal targets, in recognition of a 'new normal'. In a few cases, targets dipped as much as a third – but this was offset by the knowledge they were likely keeping a parent for longer. Not adjusting targets and expecting parents to hit the same sums they did before was unrealistic and let to stress and a sense of failure all around. However, allowing for a temporary dip in productivity paid dividends in loyalty and keeping the parents at the firm far longer.
2. Nursery for Toddlers: The parents who did best with the programme were those whose children were younger, slept longer and were less mobile. While children as old as 2 years participated, they needed more stimulation and so nursery facilities were going to be added.
3. Autonomous Roles: Undoubtedly, this will work better for some roles than others. Parents who had time to think, write and were largely in charge of their own time often fared the best. I felt for those who were working in the call centre and who engaged with phone clients on a schedule that they didn't control. More power to them though – several of these mothers maintained their high targets.
4. Cubicles and Walls: In the programme, staff at Addison Lee visited the US to see how it could work. The mothers they interviewed in the US had more office space, and higher walls where they had cubicles. This would have cut down the noise factor, which may have bothered some colleagues.  These American parents also kept toys and bouncy chairs on site – making it feel more like a home away from home, no doubt relieving some of the hassle involved in carting accessories around.
5. Extended Trial Periods:  Interestingly, if they had decided whether to implement the programme after the first day or even first few weeks, it's likely it wouldn't have gone ahead. All the parents, children and colleagues had to find their feet with the initiative. It was a hard slog in the beginning with crying, meandering children in an adult only atmosphere. But to everyone's surprise, people – including some of the biggest male skeptics came around to see not just how much better the environment could be – but how they too might benefit.
6. Encourage Dads:  The majority of employees who participated were mothers, but two fathers joined in as well. Companies need to encourage these initiatives not just for working women, but for fathers as well. The men who participated showed what was possible to other men who said 'this will never work' , but who later speculated they too might bring in their future babies!
7. Invest in the Set Up: At the start of the programme, women were breastfeeding in the HR managers office, which is not sustainable. Set aside space – not just for nursing, but also a changing table in both the ladies – and the gents, to send the right message; that it will take both women and men to drive forward culture change.
Have you watched the program? Would you want to take your baby to work?