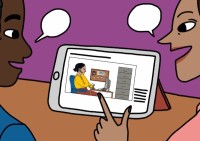 Our sister company InclusIQ have used this year to create even better versions of their 'Serious Games' for Workshops which are popular with the Law Society of Scotland amongst other clients. As training that is customisable, consistent for remote teams, and has the ability to use your own trainers, clients are liking our innovative approach. As Mhorag Sharpe of the University of Edinburgh Business School MBA programme said about the serious games workshop we ran for her on mentoring skills:
'The mentoring game provided a springboard far beyond a normal discussion. The different pathways meant whichever way the group navigated, they found interesting learning points about what it takes to manage mentoring relationships. It was a fun way to frame the discussion!'
InclusIQ's games have been developed even since their UnConferences and they'll be piloting them with corporate clients for their internal teams and external clients in the New Year. InclusIQ will also be running games based workshops for membership organisations like the National Association of Women in Construction. If you are planning 2016 and think one of our serious games on any of the below topics could be an innovative event for your audience, 
get in touch
.
The New Normal: Managing Flexible Working
Progression to Partnership: Overcoming Barriers to Gender Balance
Widening the Net: Reducing Bias in Trainee Recruitment
New Opportunities: Building the Business Case for Diversity
Seeking Support: Making the Most of Mentoring