There's nothing worse than feeling like you haven't been heard at work that's why this month we're focusing on three very different books to improve your workplace communication.
Women are known for being great communicators but getting across your point with credibility in a meeting is a unique challenge in a male dominated workplace.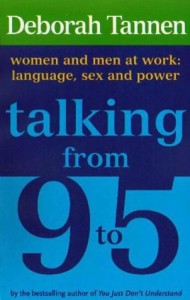 "Talking from 9 to 5″ by Deborah Tannen.  I first read this book while at university, and couldn't put it down as I was already noticing differences in the ways men and women talked about their opinions and ideas in class.  In this groundbreaking book Tannen explores conversational rituals such as banter, joking, apologizing, indirect communication, and the politics of meetings.  Tannen shows how the speaking styles of men and women impact how they are judged, in terms of confidence, leadership, and authority.   A great read for anyone who recognises language is power.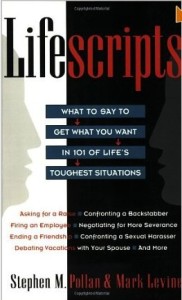 "Lifescripts" by Stephen M. Pollan & Mark Levine.  This is an easy book to pick up whenever you're feeling challenged by a particular situation.  Uniquely, it's organized by individual scenarios such as "asking a subordinate to do something not in her job description", "confronting a backstabbing peer", "asking your superior for more staff", and "telling your superior that someone else took credit for your idea".  This guide takes you through the preparation you need for each situation followed by the icebreaker for the conversation and likely follow-ups.  A great blow-by blow guide for communicating your way out of sticky situations.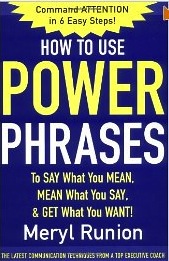 Power Phrases" by Meryl Runion.  This book highlights how frequently miscommunication at work could be avoided through clear and concise communication. The author challenges women in particular to say "No" to endless demands and negotiate what they want to take on, rather than what they feel obligated to do.  Runion also advises against using "poison phrases" like "It's just my opinion", "I'll try", or "I can't get to this until Friday".  Instead she advises people to replace those minimizing phrases with "I believe", "I will", and "I can get this to you by Friday".  As an additional bonus, the author gives strategies on how to turn potentially adversarial conversations around through coaching techniques.