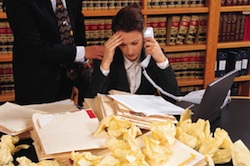 What does it mean to 'have it all'? I dislike the way that term is bandied about as the Holy Grail of professional and personal fulfillment for women. As a married professional woman with a great husband and a fantastic career, I've come to a point in my life where I think "Two Out of Three Ain't Bad." I helped raise my stepdaughter from a young age which gave me plenty of experience on the trials and joys of parenthood. I see many working women who are able to juggle kids and career. However, the cost in terms of missed career opportunities, the ubiquitous guilt of many mothers and the potential to increasingly view your partner as an additional needy child have limited appeal. It seems I'm not alone.
New international research from the Centre for Work Life Policy shows that 57% of professional women in the UK aged 40-45 don't have children, but unlike the generation of women who went before; they're happier with those choice. Less than one in three (27%) women felt they had sacrificed family for career. As Sylvia Hewlett, author of the research explained: "A lot of women feel that if you can have a loving relationship and the satisfaction of meaningful work, that's a lot to get out of life. There's much less envy of 'yummy mummies'. "
In the 62 countries Hewlett's team looked at, including Russia, Japan, Spain, America and Britain – rates of childlessness are all on the increase.  There is a shift where women without children are less likely to be seen as an object of pity or even alone in their choices. Among my closest friends – of my closest four friends, also in their mid to late 30′s, only one has children. Additionally, there is a realisation that not having children can be an active choice rather than a case of 'I forgot to have kids on my way to the top' as it was viewed even 10 years ago.
There's a recognition that life without children can be as fulfilling, dare I say it, even at times more rewarding than one in which children are at the centre. A parallel trend is that more professional men aged 40 or over are childless too. Ten years ago, according to Hewlett's research in her book "Baby Hunger", the research indicated that successful men were more likely to have children. Now nearly a third (32%) of men aged 40 or over don't have kids, up from 25% in 2002.  This suggests that many couples are making a joint decision to enjoy remaining a twosome – and see it as a legitimate and increasingly acceptable choice.