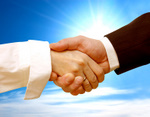 A golden rule for understanding success is: If you don't ask you don't get.
It's not something that women are always good at though – thinking if I keep my head down and do a good job I will get noticed and the rewards I deserve. Waiting to get noticed though will leave you waiting for a long time. And don't think your male colleague will think twice about pushing himself ahead of you! If you are ambitious and want to be promoted you need to tell people – the right people.
If there is a project you want ask to be considered. It's important to have these conversations with senior people early in your career. They are not mind-readers. They don't know what you want unless you tell them. And by the way if you are quietly doing a fantastic job why would they want to change things?
Accessing senior stakeholders – the right people who can help you progress your career – is key to moving up the career ladder. But how do you get noticed by those people when they don't even know your name? And what if your boss is getting in the way of your career progression because it suits them to keep you exactly where you are – making them look good!
My next webinar will answer many of these questions and give you actions and tools you can take immediately to start getting 'in' with the right people. So join me on June 21st at 8PM GMT and bring any pressing questions you have about how you get access to those people who can become your mentors and advocates to move your career forward.
Book your place online here, or take advantage of the special three webinar offer which also includes a copy of my book; Beyond the Boys' Club, and start getting what you want at work.