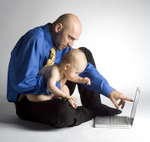 New Shared Parental Leave came into effect last month, with parents now able to share up to 50 weeks of leave in total, 37 of which would include statutory pay after the birth of their baby. While we at InclusIQ applaud the latest legislation, there are already signs that some employers will 'gender' their benefits by giving a greater proportion of pay to mothers compared to fathers.
Currently, 80% of employers top up maternity pay past the statutory requirements. However a new survey from My Family Care found only 45% of the 200 employers surveyed planned to top up payments for new fathers. If this happens it undermines the whole purpose of the bill and re-establishes the attitude that childcare is a woman's 'job' and that 'responsible fathers' work for pay.
Families will lose out as men will be more likely to receive just the base minimum, £139.50 per week or 90% of earnings, whichever is lower. Contrast this against what is customary for women who typically benefit from full pay for the first 8-12 weeks, with many employers boosting maternity pay from 12-37 weeks.
If men don't get the same entitlements, families will opt to keep the old arrangements – not benefitting from the new legislation at all. What's worse is that the more male dominated your sector – the worse your options. Employers in higher education, public sector, banking, finance, legal, charity and telecoms were the most likely to offer generous packages for both maternity pay and shared parenting leave. However, those sectors with the highest number of men – engineering, construction industrial and manufacturing were least likely to go above the base minimum for men. We at Female Breadwinners were already concerned whether men would feel able to ask for their full rights as defined by the new legislation – but not paying them equally will be the real disincentive.