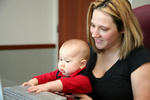 I was talking with a female breadwinner coaching client a few days ago about the perils of gift giving over the recent holidays. She said: "I think my husband was too generous with our children this year, but felt I couldn't criticise because Christmas morning was the first time I'd seen some of their gifts. I hadn't been involved, so didn't feel I could complain. My work has really taken off this past year, and because I'm at work so much more, he's had to take on more of what used to be my role – budgeting and buying gifts for family. There is a small part of me that resents some of his choices when it comes to our kids."
Our conversation reminded me of a  survey I'd seen which suggested female breadwinners have a tougher time with the disparity in earnings if they have children.  In a recent poll of 400 female breadwinners conducted by the women's financial media site DailyWorth.com, only 22% of wives without children felt a negative impact on their marriages. But it was a different story for working women with children—36% felt their higher earnings had a negative effect.
Children can certainly add stress to any relationship, but I'm reminded of conversations I had with women I interviewed for Female Breadwinners: How They Make Relationships Work and Why They are the Future of the Modern Workplace. One woman confided: "I thought that when we had children I would be able to stay at home with them, but due to several redundancies for my husband, that just hasn't happened. I have to earn in a job I'm only lukewarm on and he gets the time with the kids I would have loved to have had!" Do you recognise this and if so, what do you think this disparity is about?