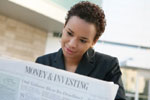 Two years ago, I had a conversation that inspired me to write a book on the rise of the female breadwinner. As I paired it with other conversations I was having with clients, I realised there was a real story to tell.
Clara, an executive for a global pharmaceutical company, had been approached about a promotion to a 'Head of Country' role. The job offer was a real step up for her, and a great indication of the potential her boss saw in her. However, the opportunity meant relocating to Finland.
As we talked, Clara said: 'Naturally, I'll have to talk it over with my husband, Richard. Even though he works from home as an IT consultant, and so could probably continue his work, I want to make this a completely equal decision. I certainly wouldn't be here without him.' Richard worked part-time and fitted his work around the schedules of their two small boys.
In our sessions, Clara had always mentioned with pride the support Richard gave for her high-earning role and how good he was with their sons. Clara was clearly very reliant and grateful for the flexibility.
What struck me from the coaching conversations I was having was how many of my clients were the primary breadwinner for her family. In our sessions it had never been raised as a main issue, but it often lurked in the background affecting how the women relied on their partners, their internal sense of responsibility and their career choices.
In fact, I knew this was a topic worth exploring when I looked through my list of clients later that night. With only one or two exceptions, my female clients were all women who out-earned their husbands, partners and boyfriends. I wrote "Female Breadwinners: How they Make Relationships Work and Why they are the Future of the Modern Workforce" to get under the skin of what goes on for this growing group of women. To reserve your signed copy, go to the special book discount page.