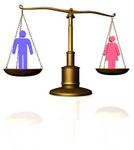 A new proposal for quotas for Women on Boards within the EU made big news yesterday and is detailed in the Financial Times.
The proposal has been drafted because voluntary schemes have failed to provide much traction on the issue. According to the draft, companies larger than 250 employees or with more than €50m in revenues would be required to report annually on the gender make-up of their boards. Those that miss the mandatory quota would be subject to administrative fines or be barred from state aid and contracts.
While many European countries have enacted quotas on their own volition, this legislation would mean nations like the UK and Sweden would have to comply as well. Europe's listed companies will be forced to reserve at least 40 per cent of their non-executive director board seats for women by 2020 or face fines and other sanctions under a proposal being drafted by the European Commission. This would redress a severe imbalance. EU data shows that in January, women represented only 13.7 per cent of board positions in large listed companies.
So is this a good thing for Britain? Here are my thoughts what do you think? Join the discussion on the Female Breadwinners Linkedin group or leave a comment below.