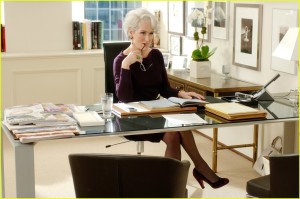 When executive coaching women, we sometimes hear shades of concern from women wondering:  – "Will I become less likeable as I grow in my career?" Many professional women fear that becoming more ambitious at the workplace could make them seem like Meryl Streep's villainous caricature in Devil Wears Prada. However, in our work we routinely meet senior women who wear their power and femininity equally well. That's why we were delighted to see a recent study, showing success does not make women less popular.
The Harvard Business Review created a leader likeability index after analysing a large group of male and female leaders. Over a period of three years, these people were compared on their level of seniority in the organization and their perceived popularity. Each leader was assessed by at least 10 people including their bosses and peers. The aggregate data showed male leaders were perceived more negatively as they rose, whereas women executives generally maintained their popularity throughout their entire careers.
"Both men and women took a hit in likability when they moved from first-level supervisor to middle manager. But this drop was more precipitous for men. After that, the women made up some ground, while men's standing continued to erode, significantly widening the gap between them." states the report.  Capricious and arrogant leaders of both genders were found at every level. However, among the least likeable, 3% more were men. Contrastingly, among the most likeable, 3% more were women.
I think the questions I often get about 'bitch bosses who pull the ladder up' is not so much a sign of unlike-ability of senior women. It is a sign of our higher expectations of women as nurturing and collaborative leaders. This is a huge stereotype and a burden women cannot be expected to live up to any more than expecting all male bosses to be fantastic. In fact, the study concluded that likability and success go together remarkably well for women. Moreover, there is a higher correlation between popularity and perceived effectiveness, irrespective of gender. Reason enough to assert yourself at the workplace and aim for the top!