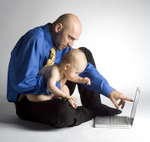 We often receive fantastic e-mails from men, outside the Boys' Club, who are the main carers within the household. Their letters are predominantly very supportive of our message – that the rise of the female breadwinners can benefit both men and women by offering greater flexibility in their roles. On the streets, in the shops, talking with fathers  – most people see that dads now drive kids to more dentist' appointments, preside over more school  assignments and arrange more playmates than ever before.
According to the article "Are Dads the New Moms?' by Susan Thomas in the Wall Street Journal: "Research confirms the rise of co-parenting. A recent U.S. Census Bureau report found that 32% of fathers with working wives routinely care for their children under age 15, up from 26% in 2002. Popular culture has noted the trend, too. Involved regular-guy dads are now commonplace in commercials. In one AT&T ad, a dad diapers his baby while talking sports on his phone with a buddy."
Men recognise the demands placed on them are changing and growing as we enter this new age. And most are far more open to the opportunities, challenges and even benefits it can unexpectedly bring. As one young father who writes to Female Breadwinners explains about his wife's second pregnancy: " Carol and I became so much closer in the final months of her pregnancy.  I've gained such an appreciation for what she does, and feel bad that it took me so long to realize these things.  She continued to work hard, all the while taking care of our baby growing inside her.  I was as supportive as I could be (I think, anyway) and as the big day drew near we began to appreciate that it would mark a huge tradeoff for us, for once the baby was born I'd take over as the primary parent and Carol, as the female breadwinners, would support me.  We'd done this of course with our first child but for some reason this time we really acknowledged it.  It was great for me because I felt useful during the pregnancy and absolutely empowered once the baby was born, while Carol was excited because she knew that the baby will be cared for by her husband and we could proceed ahead in our lives." For them, this 'brave new world' of parenting gives them both a sense of contribution and purpose – that is not tied to old fashioned gender roles that are increasingly outdated.
In her article Thomas explains: "One recent study found that not only are men's personal identities increasingly linked to being fathers, but so is their health. In a paper presented in early May at the Population Association of America's annual conference, researchers from Ohio State University reported that more paternal involvement was associated with decreases in depression, substance abuse and risky behaviors for low-income fathers. It also improved their self-reported physical health." As positive as it is to hear how spending time with their children benefits fathers, it's also increased stress in achieving that holy grail historically considered a working mother's issue: 'work-life balance'.
Thomas continues: "Men are experiencing what women experienced when they first entered the workforce in record numbers—the pressure to 'do it all in order to have it all,' " according to a report released by the Family and Work Institute last year. It also found that the acceleration in "work-family conflict" has been particularly conspicuous among fathers in two-income families, with 60% saying it was an issue in 2008, up from 35% in 1977. That figure remained relatively stable for women, at 41% in 1977 and 47% in 2008." Clearly more needs to be done to promote flexible working – telecommuting, job shares, high quality part-time roles, for both men and women. Only when employers encourage men to use and openly advocate for these policies, will we see more gender parity in the workplace.