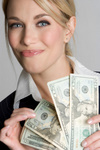 I am absolutely delighted today that The Daily mail has picked up on the recent news about the growth in the number of female breadwinners. Journalist Tanith Carey contacted me for an interview about "The survival guide for breadwinning wives" based on my research for the Female Breadwinners book.
The article explains how the most important negotiations are not so much with their colleagues — but with their partners at home about how to make it all work. While an increasing number of men are delighted for their wives to bring home the income, others nurse deep-seated resentments at being forced out of traditional alpha-males roles. You can read the Daily Mail article, containing stories about the women I interviewed for the book here.
BBC Radio Coventry picked up on the story and called me this morning to discuss on air my research for the book. You can listen to the interview on BBC iplayer from tomorrow 14th October for the next week.
Find out more about the challenges and opportunities faced by female breadwinners, and my techniques for "survival" in the boardroom and the bedroom in October's webinar of the month.