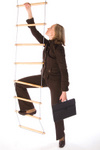 In my work with thousands of women from different companies, I have found leadership and organisational culture play the most important role in the success of their women employees. Therefore, I was delighted to see a recent article in the Mckinsey Quarterly, identifying the important priorities for companies and leaders committed to gender-diversity progress, reiterate this observation.
Since 2007, Mckinsey and Company have been intensively researching the career development of women in the corporate sector.  After conducting interviews with senior executives in companies that met exacting criteria regarding women employee career development and investigating leading US companies that had a high percentage of women on boards, Mckinsey tells us how top performers do it.
"CEOs and senior executives of our top companies walk, talk, run, and shout about gender diversity. Their passion goes well beyond logic and economics; it's emotional" – Mckinsey states as the first principle to promoting gender diversity. In my own work, helping male leaders develop a more inclusive management style, I am struck by how often it is the men who have had a personal experience that helps them 'get' the value of diversity. Whether he tells me how he remembers how hard his single mother worked to support he and his siblings, watching his daughter struggle to make work and family life balance, or when he has had the experience of being a minority group member, it is the personalisation of these issues which create the biggest advocates.
Each time a story is told, the case for diversity gets stronger and more people commit to it. Real stories relayed by the CEO and other top leaders, backed by tangible action, build an organizational commitment to promoting women in leadership. As Time Warner Cable chairman and CEO Glenn Britt says, "It has to start at the top, and we must set expectations for our leaders and the rest of the company. I've cared about this [gender diversity] since the beginning of my career. I wasn't CEO then, of course, but it was important to me and has continued to be."
Gender-diversity programmes aimed at women are just not enough. To prevent the initial enthusiasm from waning away, we need a value set that is lived every day by the leadership on down. Companies should focus on creating a nurturing, flexible environment in which all people – not just women – will thrive. To do this, C-suite executives must have the courage to talk not just about what diversity means to the business, but to them personally.