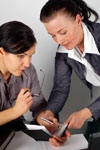 In my business, there's been a real groundswell of interest in executive coaching from individuals looking to progress their career. They approach me directly and may initially assume they'll have to invest in the coaching on their own. While that may be the only way forward for a few,  I think potential clients should approach their boss about supporting the coaching.
The goals and benefits are almost always business related, and from that employers benefit hugely. For example, raising the confidence of a client should be a 'business issue' worth addressing, since confident women make better colleagues, leaders and just have more management potential, plain and simple.  One idea if you are a contractor is to pay for it out of your company, as it is a legitimate business development expense.
Last week, during the networking session after I had spoken at an event in the City, a IT project manager asked how to get her boss to pay for her to work with me. Interestingly, as I began to explain strategies,  other women edged closer to join in the conversation,  demonstrating a real interest in support from an increasing number of women to develop their careers to the next level with professional support. Often, coaching can support someone whose manager doesn't have the time to devote to growing that individual, and deciding whether to pay for coaching is often up to managerial discretion. There is even an industry joke that "Coaching makes up for Bad Management". Most of the women who initially approach me personally are often able to go back to their line managers to get it funded.
If you want  you boss to pay coaching,  follow these 9 techniques:
Make initial enquiries about what type of support is available. Do they have in-house coaches, or have they ever  paid for coaches, courses, workshops or other training?
What precedents have been set by other colleagues? Or ask if your boss has ever received coaching and if so, what were the benefits.
Think through your development budget – one client was able to use her previous 2 years unused allocation to work with me intensively.
Get your timing right – it's easier to make the ask if you are taking on new responsibilities, a new project, new direct reports, new clients or some element of your role is changing.
Pounce after an appraisal – if your feedback is good, talk about how coaching how could help you grow and take on more. If the feedback is mediocre, ask for your development areas and point out how coaching could support you reaching those goals.
Talk about a 6-12 month plan with your boss – it's a case of 'if you don't ask, you won't get'. The best results from a substantial amount of time and those who ask for only 3 sessions get them, just as those who ask for 18 get them. Ask for more than you expect, your boss may surprise you.
Show how coaching could help your boss delegate to you more responsibilities – what's in it for them.
Tell them you have been doing some research on coaches and have a preference, clients are able to get it approved in one go simply because they have done their homework and can make it an easy 'yes'.
As a last result, ask if they will consider match-funding it so that you each pay half – but don't make this your starting point. Go in asking for more than you would accept.
Find out more here about my Executive coaching service, or my Six Sessions For Success Telephone Coaching.
And for some short intensive coaching why not sign up for one of my webinars?