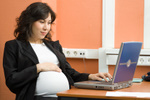 As women approach maternity leave, we often secretly hope our maternity cover will be mediocre – do the job so that nothing falls apart, but that  we shine by comparison. However, actually setting it up this way is nothing but a lose – lose proposition. I recently met up with a female breadwinner coaching client, I hadn't seen in years. I'll call her Joanne. At the time we worked together she was struggling to earn trust from her line manager. Her line manager, Mary, was due to go on maternity leave and was reticent to deputise to Joanne… or anyone for that matter.
In fact, Mary's  'strategy' was to divide her responsibilities between several current and new staff, to enable her to keep hold of the reigns while she was away by not sharing all the information with any one person. It wasn't as if Mary was looking to cut costs as some employers are forced to do by sharing the workload – she was still going to hire cover. Her problem was in trusting any one person to do her job.
While it may seem a genius move to keep control of your title for your return, it is actually so destructive in the long run.  There were several people on the team that could have deputised, but none were trusted with the responsibility, which meant morale in the team took a real hit. The maternity cover employee she eventually hired, Brad,  to do certain aspects of her job was not well–briefed, again because Mary thought it would demonstrate how the organisation couldn't do without her.
This was a fact that Brad shared with other people openly. And why not? He had no loyalty to Mary because she'd set him up to fail. My client, Joanne, realised that after 2 years in her job as second in command to Mary – if Mary did not trust her by then, she never would. Joanne began looking for another role – which further hindered the team's progress during Mary's break.  Plus, as you can imagine, colleagues and clients external to the team were often confused as to who to go to for what services. Not surprising, as Mary had in effect set up a fiefdom with her teammates as sitting tenants who had no real power or information.
The key is in handing over well, making sure your cover has the information they need, written down. This not only includes details of projects but insider information of who's helpful and who's not – what are the personalities involved like. And remember, nothing is 'obvious' in a new job – things you think they may know, they won't – and you won't want to get panicked calls right when your baby is finally able to go down for a nap after trying 5 times earlier that day! Your cover will be your 'voice' while you are away, and if they don't feel well-prepared it will show to the colleagues to whom you have to return.
Use your 10 Keeping in Touch days to make sure everything is on track and to meet with all members of your old team plus any senior stakeholders you have – all the while reminding them how much you are looking forward to returning. Also, as anyone who's had even an extended holiday knows – anytime away from an office can feel like an eternity as things change. Don't dismiss developments or new processes just because you weren't involved in instituting them. You may find that your cover did a great job, and even added value to the role and processes – making your comeback to your 'new/old job' all the more easier.
If you would like lots more advice on managing this important stage of your career book your place on my webinar this Thursday evening on "Managing Your Maternity Leave As A Female Breadwinner".