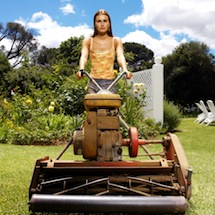 The rising tide of Female Breadwinners is certainly saving many families through the recession. However, while this departure from the traditional model of male earner is necessary and the way of the future, those who publicly recognise the changing tide are often criticised.
Cartoonist David Horsey received harsh criticism for a Father's Day sketch entitled The Sign of the Times which he drew in a Seattle Post newspaper. The sketch featured a small girl looking up to her beer-drinking despondent-looking father and asking: 'Since you lost your job and Mom is supporting us, should I just give my Father's Day card to her?'
He responded to the furore by pointing out that his job as a cartoonist is to be controversial and poke fun at changing social dynamics. Horsey explains: 'My cartoon may have been a little raw, but it wasn't all that far off target. American men are entering a new era where the old assumptions about their place in society are being challenged as never before. This is not necessarily bad, but for some guys it will not be easy.'
As David Horsey discovered, the increase of women who are not only earning but out-earning their partners has indeed been difficult for some men to accept. Naila Kabeer, of the University of Sussex, explained in her study "Marriage, Motherhood and Masculinity in a Global Economy":
'Resistance to this change is 'mainly in their roles as husbands rather than as fathers, brothers or sons. …Male identity and power relations are far more closely bound up with the appearance, if not face, of women's financial dependence within marriage. The complex negotiations through which women and men are attempting to come to terms with women's increasingly visible role as breadwinners is leading to unexpected reconfigurations of personal and family life across the global economy… Consequently, many women appear to be pursuing strategies of 'wielding and yielding', making concessions and compromises in order to take up paid work without jeopardising their marriages.
'Continued responsibility for a major share of unpaid domestic work, including care of children and the elderly, appears to be the most frequent concession yielded by women. They are permitted to go out to work as long as their husbands are not required to shoulder a greater share of this unpaid labour. On the other hand, not all women are willing to accept the unfairness of this compromise. Some have used their new found earning power to renegotiate unsatisfactory marital relationships, forcing some degree of change in the division of domestic responsibilities.
'Others have left to set up their own households with children, leading to rising rates of female households across the world. Such households are often poorer on average than others but their children are not necessarily more disadvantaged, since their mothers have greater control over the use of their earnings. As women in more prosperous countries move up the occupational ladder, it is women from the poorer countries of the world who have responded to this rising demand for paid help in the home.'
But it requires time away from their own children to come to richer countries and look after another woman's children: 'It is generally their own mothers rather than their husbands who take care of their children during these absences.' Mothers who are also the primary breadwinners certainly face an uphill struggle in the workplace.  In fact, some evolutionary biologists have suggested that women have adapted to live far past their child-bearing years, primarily to help daughters raise their own children to adulthood.
In this age of increased elder care responsibilities – are you able to rely on your mother or father for support?
You can get your own copy of Female Breadwinners: How They Make Relationships Work and Why They are the Future of the Modern Workforce here.