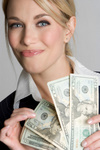 As I head off to the Women In Banking and Finance awards today to cheer on Vanessa Vallely of We Are The City and Carol Paterson of Alpha Female Club, my mind turns to how much the role of the female breadwinner has changed in banking.
So I was fascinated to see this simple chart showing which banks have women in senior roles. It would seem that you have a better chance of being on the group board in Germany with 7 of the 20 board members at Deutsche Bank being female. Interestingly though none of their 20 group executive committee are female. On the other hand commercial banks are lagging behind with a combined total of only 9 women out of 86 board members across the banks being women.
With the total percentage of female board members across investment and commercial banks being under 17% (view the whole table here) clearly we have a long way to go before we can tap into the benefits a well rounded board can bring. If you are a woman on the board in banking I'd love to hear your route to the top and the obstacles you overcame to get there, so please leave a comment. You can read more about women in finance here.