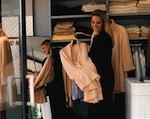 I am perhaps a bit odd in that I LOVE  to use the first weekend of the New Year to vigorously weed out my work wardrobe. I also drag my husband into a yearly purge as well; which he never quite appreciates with the same sense of annual renewal. Go figure?!
As we settle into the New Year, a dreary weekend day is a fantastic time to de-clutter your wardrobe to start 2012 on the right foot.
It's amazing how much of my clothing I avoid wearing because I suspect it doesn't flatter my shape or even worse; is too tight…. that dismal moment when the 'fitted' cut of trousers starts to look like sausage casing!
For example, at the tail end of last year, I came to terms with the fact I will never again fit into the black skirt suit that helped secure several of my first jobs in my 20′s. Luckily, the suit found a new home, courtesy of Dress for Success – a charity that provides interview suits and work wear for low income women returning to the work force.
Starting 2012 with the a sense of style that is work-appropriate, will motivate you for the career progress you want to make this year. I asked a good friend of mine, Isabella Brusati, to give us a few New Year tips for clearing out your closet. Isabella had a high-flying corporate career but decided to capitalise on the frequent compliments she received on her own wardrobe and effortless chic to open a style consultancy – www.effortlesslychic.net
I asked Isabella to explain why a clean and clear wardrobe is vital and she explained – "Image and personal brand are key for a woman's career and success. I define brand as what people say about you when you are not in the room. What is your brand?
The start of a new year is the perfect time to set your goals: what do you want your brand to be? Sit down in a quiet environment and write down your goals. Draw a pie chart and take a snapshot of how you spend your time (e.g. 60% work, 30% family life, 10% socialising). It is important to have a consistent brand that is embedded in every aspect of your life.
The next step is to assess your wardrobe and to de-clutter it. It is not unusual to hear women saying: "I have so many clothes, but nothing to wear". Your aim is to create a capsule wardrobe that is sending the right and consistent message: that you mean business!"
Isabella's advice reminded me that investing in work wear is a smart move for me as I spend so much of my time presenting, coaching or networking. However, splurging on that sequin top for weekend drinks can't be as easily justified as it will cost me more on a cost per wear basis than an elegant navy dress from Jaegar, that is three times the price. I could even justify treating myself to a long cashmere cardigan for wearing on cold days in the office. But cheaper party clothes are almost never a good buy for some-one who works as much as I do.
So how can you de-clutter in three easy steps:
PLAN: If this is a once a year exercise plan a whole day. If you frequently sort things you may get away with an hour. Make sure you do set aside enough time – plan in hourly chunks to work on a certain area of your wardrobe, for example work wear, accessories etc. Done in one hour sessions you can make the time fly by listening to music or a favourite podcast from Women's Hour.
PURGE: take out the section of your wardrobe you are working on. Be brutally honest. Has this suit seen better days? Would you feel confident wearing it to an important meeting or do you put it on and subconsciously think "this will do"? Are there things you are "saving for best" that you rarely wear?
SORT: This is the time to look at the items that didn't make it back into your wardrobe – make 5 different piles:
Dry cleaning: identify all stains on items to go for cleaning. This is also the time for the dismaying task of looking for moth holes, which you may be able to fix with some careful darning.
Tailor: which items require some minor work like replacing buttons, adjusting the hem or even optimistically taking in a waistband?
Donate: take clothes that are still in good condition to your local charity shop or better yet donate to Dress For Success.
Bin: if it cannot be altered, is out of style, it doesn't fit or isn't vintage; the rubbish is the only solution.
Evening wear: the rule of thumb is that if you have not worn an item for one year you should toss it. Evening wear is an obvious exception as, unless you attend black tie events on an ongoing basis, it gets worn less frequently. But again be ruthless with yourself. Would you actually wear that 'Miss World' style black sequin dress with the 'Dynasty-esque' shoulder pads that looked so good on you in 1987, to your next Black-tie event?
BE MERCILESS: ditch everything that does not suit your lifestyle and personal brand. This is not the time to wonder "But what if I lose weight?" If you manage to lose weight,  you'll probably want to treat yourself to a few new items!
ORDER: put everything back in the closet and create order: trousers all together divided by colours, suits grouped in the same area, etc. Treat your clothes to decent padded or wooden hangers – don't spoil an expensive jacket by hanging it on a wire hanger.
KEEP UP THE GOOD WORK! Be organised and assess on a seasonal basis – add new items or ditch a few. Your image and brand are your passport to success.