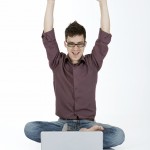 This morning over breakfast, my husband and I watched a TED video. These videos are a great way to spend a few spare minutes, since they are so informative yet concise and give you insight into topics you never knew could be so interesting.
One video caught my attention however, on "The Demise of Guys".  Psychologist Philip Zimbardo talked about the increasing failure of boys and men to engage with women in education and in social relationships, and how more men than ever are retreating to the 'safety' of male-only pursuits like pubs, strip clubs, and sporting events. As causes, he cites the near ubiquity of both video gaming and pornography industries, which encourage solo activity and give a stunted and unrealistic view of relationships with 'real' women.
I can't see this improving anytime soon, particularly as these are both multi-billion industries far outstripping other consumer areas and are only growing. For example, hundreds of pornographic films are made for every single mainstream movie and I know entire secondary school curriculums at a few American charter schools are being constructed around a 'video game' framework.
As female breadwinners, I have spoken with clients and friends about how difficult and distant their relationships with men can become if their partners are involved in gaming and/or pornography.  While I'd like to think this is a problem for just  a few choosing to lock themselves away with their consoles, the ubiquity of this problem will be a real challenge to both men and women for generations to come.
You can watch the TED video here and I would love to hear your comments on this subject.