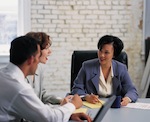 In preparation for next week's webinar on communicating with gravitas, I was reflecting on a recent interview.  I am in the running for a prestigious fellowship that would take me to Boston for the last few months of 2012. I recalled my interview  with members of the panel, where I had to project much more confidence than I often feel about the growth of my business, Female Breadwinners.  I couldn't tell them how I worry if I am investing in the right marketing strategies for my small business or that I beat myself up about the speaking events I don't get or how I dissect conversations wondering if I made the right impression with a new client- all of which I do, and I bet you do too.
Rather I made a conscious decision to use positive language to point out that Female Breadwinners has 'doubled it's turnover every year since its inception', that I 'regularly speak with audiences at  FTSE 100 companies' and that my ambitions include creating a 'multi-million pound structure that helps men to embrace workplace gender diversity'. I know that in interviews, meetings – virtually anytime you are speaking to a colleague you must verbally establish your presence through your choice of words. It's a lesson we women need to learn. Men are much better at 'bigging it up'.
Most professional women I know have plenty to be proud of. I know and work with women who are senior managers in legal, banking, science, engineering and technology firms, many with MBAs and PhDs. Yet to hear some of them talk about themselves and their accomplishments you'd be surprised to find they had a qualification to their name. I am not advocating bragging about things that are bot true, but most women I know minimise their achievements, usually for the perceived comfort of others; to be accepted and 'liked'.
As a professional woman this is a mistake you can't afford to make. One step is to remove the words small, only, kind of, just and little when talking about your achievements. Dismiss phrases such as I only work part-time when you work three days a week, and check your messages on the days you are meant to be 'off'. Chuck out weedy explanations such as I am just doing a post-doc at the moment when you have landed a research position in a field you love. Minimising your accomplishments in the hope others will see though your humility rarely works in the workplace and certainly not in job interviews or appraisals. Nor does it belie true confidence, which is what employers are looking for when considering hiring, promotions…. and even fellowships.
Find out more about Monday's webinar  – February 27th 2012 8pm – Say it Right: Verbal and E-mail Communications with Gravitas