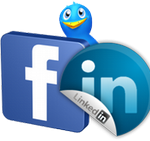 In a day with too few hours, what kind of edge can social media give you? The demands of social networking can seem all-consuming – shall I tweet, blog, Facebook or include this bit of news as a LinkedIn update?
It can all seem like too much to manage – and you know no one wants to read about your cups of tea! However, careful maintenance of one or two social media tools can work wonders for your career. For example, I'm a big fan of LinkedIn, and I'm not alone. According to the Social Media Examiner 95% of companies check LinkedIn profiles for job candidates, and there are over 130,000 recruiters on LinkedIn.
If you feel too busy for social media, but curious how you could maximise it for your benefit,  join the webinar "Online Profile Raising For Busy Professional Women" on 6th February. In the meantime read a few savvy strategies for social media below.
First tip: Where are the people you want to link with in cyberspace?
I like LinkedIn for it's sheer ubiquity in the professional world; it has 150m users and the average user is in a management position earning $100k plus. It's a better reflection of myself and the type of women with whom I work.  To that end, I rarely check Facebook since most of my target market are older women, with less time and don't want to mix school friends with work colleagues. But I know there may come a day when I interact with Facebook more.  But then again, perhaps I should just bump up my twitter usage as currently the average twitter user is a 25 year old woman!
Because I have to be focused where I spend my time, I choose to host an active LinkedIn group for Female Breadwinners, where we post relevant issues. A LinkedIn group is self-selective and in most cases, filled with people who actively want to share opinions and information with others in a similar situation. An active LinkedIn group can become an inner circle. So, I know the people who sign up to the Female breadwinners group are, in the whole, main breadwinners for their families. We can share more intimately and pass on tips from everything from which handbags are best for laptops to the stress of bearing the responsibility of earning the bucks.
In the same vein, a good friend of mine in Charity Fund Raising took a four month career break to travel in Asia after building up a good reputation in the industry for the previous 15 years. In the months before her return, she built up her LinkedIn database. When she was ready to return, she posted a simple LinkedIn Status update that she was ready to work. Six of her former bosses got in touch and also recommended her to others. Sure she had started her 'networking' 15 years previous, but the lesson here is that she used LinkedIn to consolidate those contacts and announce she was ready for a new challenge. She was able to be choosey and is now working for a well respected foundation .
Second tip: Even just modifying a phrase or two each week in your LinkedIn status update will register the change which means it will be re-publicised to your contacts.
For more tips on how to use social media for your benefit as a busy working woman, join us NEXT WEEK on Monday 6 February at 8pm GMT for "Online Profile Raising For Busy Professional Women"  or download it and listen to it in your own time. I'm hosting it with the brains behind my own social media, Maria Sadler, who runs a consultancy Pink Buzz, which focuses on helping professional women raise their online visibility.