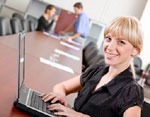 My favourite network for women working in IT womenintechnology.co.uk teamed up with Intellect's Women in IT Forum to survey women in the industry on how they felt about women's progress  in the technology profession. This was a follow up from an initial survey in 2007, and unfortunately, there wasn't a good deal of change to brag about.
The full report which can be downloaded here reported " The tech industry has failed to remove the glass ceiling. A long hours and macho culture still exists. Whilst the technology sector rated highly in the provision of progressive employment policies and facilities, the survey revealed a fear amongst women that taking up the options of part time or flexible working would be detrimental to their careers as highlighted by one respondent who said: "The company offers some flexibility but women taking up options of part time and flex type working undoubtedly suffer in the promotion stakes. They simply don't get recognition."
Worryingly, over 60% of respondents have over a decade of experience and yet only just over a quarter ( 26%) have reached senior management level with many feeling that they are being passed over for promotion in favour of male colleagues. In fact over a third of respondents said they had left their last position due to a lack of internal promotion.
Is HR helping or hindering these women who want to progress?
Findings from the new survey also concluded that HR rates poorly in supporting women in the IT sector. Only 36% rated HR departments as good or excellent – 3% down from the 2007 figure. This compares poorly with other groups such as line management (47%); direct boss (55%); colleagues (60%) and juniors (47%). Worryingly, over a quarter of respondents (27%) rated HR departments' support as 'poor' or non-existent.
Commenting on the results, Maggie Berry, Managing Director of Women in Technology said: "Breaking the glass ceiling is not about promoting gender equality for its own sake. There is an absolute business case – women are not a minority in a highly qualified tech talent pool and research from McKinsey & Co in 2007 clearly showed that organisations with strong female representation at top management and board level perform better than those without. It's disappointing to still be having to have this debate in 2011!"