'To find a man's true character, play golf with him" – PG Wodehouse.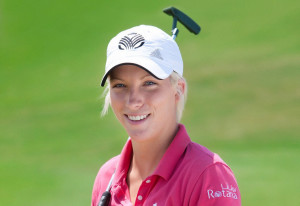 Will taking up golf help me build business?' is a question I've heard from a few professional women recently. All eyes over the past few months have been on various clubs, many of whom are still male-only preserves.  The Women's Open was recently held in my hometown of St. Andrew's, Scotland and it was great to see the faces of female celebrity on banners across the entrance to the city. But will golf get you ahead in the workplace? No doubt, golf has long been synonymous with the world of business. Deals are born and shook on between tees and it has ever been thus. As women attempt to climb the ranks of business, are they held back by not picking up a nine iron?
Take for example the case of Virginia Rometty who took the helm as first female CEO of IBM in 2012. She was named one of the Top 100 Most Influential People in the World by Time. But unlike her male predecessors, Rometty was not given an honorary membership to Augusta, which is close to IBM headquarters in Atlanta. Rometty actually plays, but women were not allowed to become members at Augusta. To add insult to injury, IBM has traditionally been a main sponsor of the Master's the annual tournament at Augusta. However, Augusta has started to buckle under the pressure, this past season it gave membership to Darla Moore a South Carolina financier and philanthropist Condoleeza Rice.
This kind of an attitude towards women in golf only compounds the connection between the sport and big business. Catalyst, a research firm dedicated to expanding opportunities for women in business, found that 46% of professional women claimed that "exclusion of informal networks" was one of the biggest impediments to reaching their career goals. Golf was the top of the list of these networks.
According to London Loves Business bosses who play golf can earn up to 17% more. "The reasons which make golf such a good networking tool are certainly plentiful. The handicap system means that people of all levels of skill can play against each other competitively… Golf is a great way to build relationships with clients, prospective clients, and people within your company. If you can talk about golf, all of a sudden, you have a reason to talk to the CEO or your boss two levels above you." As someone who lives in a golfing community, I know golf allows you to see the good, bad and the ugly of the people you are playing with. It's a great way to 'suss out' the other person. Professional women who want to try golf would be well advised to check out Leslie Andrew's book 'Even Par', encouraging women to boost their business careers through golf. You don't have to be a pro to make golf part of your life. Golf is not a leisure activity, taking away time from other 'important things'. As Leslie Andrews points out in an article in Forbes: "It's really not the golf that matters, truth be told. It's the secret club. It's the secret language. It's being in the game, being where decisions are made. And that means being on the golf course,"
Women don't control the whole equation.  The Virginia Rometty episode provided a stark reminder of that.  But we do control part of the equation, and if you work with senior people who play, and you have the time yourself to learn, you could seize the networking opportunity that golf affords.
What shared passions do you have with colleagues or clients? How have you used that to build the relationship?