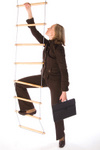 While women's role in society is virtually unrecognisable from where we were just several decades ago, progress has not been evenly distributed between the sexes. As women have capitalised on new career opportunities, men's average achievement has simply failed to keep up.
Over the past four decades, the number of women in some type of employment steadily increased from 56 per cent in 1971 to 70 per cent in 2008. For men, the complete opposite is happening. During the same period, the number of employed men fell from 92 per cent to 78 per cent.
The current recession has adversely affected the number of men in employment. Manufacturing, construction and financial services initially bore the brunt of lay-offs. Women and the industries where they predominate, such as health and education, until recently have been less affected and as a result women on the whole have suffered fewer redundancies. As the government, education and non-profit sectors are now facing budget cuts, more women will undoubtedly lose out.
Even so, the current recession is only part of the story when it comes to the rise of male unemployment. According to the U.S Office of National Statistics, a full decade before the recession, in a sample of 4,000 American families during the period 1996-2000, between 13 and 20 per cent of wives out-earned their husbands.
This was no temporary fix. In 60 per cent of these families, that pattern of female breadwinning lasted at least three years. Clearly, this demographic is growing but it's not new. Female breadwinning is most common at either end of the earnings scale. It's noticeable among families where a high-earning woman brings home the majority of the income through a well-paid professional job.
However, it's also normal among the working class where both partners are in employment, perhaps with hourly wages, but the woman earns more per hour or works at several jobs simply to make ends meet. In the US,  according to the Bureau of Labor Statistics, unemployment is certainly higher among all less-educated workers; but a rising share of working-class families is now being headed by female breadwinners.
The reality of women as primary breadwinners is here ─ but it is far from being an overnight sensation. This has been a gradual change which we have largely ignored. In the US, men's share of the total labour force has declined from 70 per cent in 1945 to less than 50 per cent in 2010. There is an increasing need for men to redefine masculinity according to what works now.
Andrew Romano and Tony Dokoupil explained in a cover article, aptly titled 'Men's Lib' for Newsweek magazine: '…There are good reasons why inner-city fathers, hedge fund honchos and former GM plant managers aren't taking several months off from work to care for their kids – or exploring new fields, like nursing, where few of today's men dare to tread. Most guys, in fact, don't even need rescuing – or at least not yet. They're still overrepresented in business and government, earn more on the dollar… and clean fewer dishes.'
Clearly, getting men on board is easier said than done, even though a rapidly changing future is staring them in the face. For your signed copy of "Female Breadwinners" click here to purchase from our online shop, or take advantage of our book bundle and get "Beyond The Boys' Club" with "Female Breadwinners" at the special price of £25.