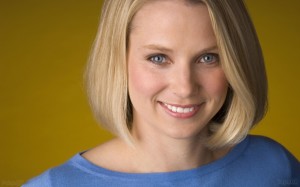 By now, you'll all be familiar with the story of the new CEO of a struggling Fortune 500 company in need of a turnaround recently decided to kill a popular flexible work program, even though it boosted employee productivity and morale and cut costs. You'll assume I mean the CEO is Marissa Mayer, the 37-year-old Silicon Valley wunderkind whose decision to ban telework has been met with accusations of sisterhood and endless dissection in the media. But I was actually referring to Hubert Joly.
Joly, the new chief executive officer of Best Buy recently ended the flexible work style the company pioneered — Results Only Work Environment, or ROWE — that defined work as something you do, not someplace you go, and gave employees control over when and where they did it.
Along with Joly, there are at least two other male CEOs, including  Brian.T Moynihan, CEO, Bank of America and John Berry, head of the Office of Personnel Management who recently reduced flexible working hours for their employees.
The decisions made by these 3 men and 1 woman sent a strong message about the value they place on allowing employees to do good work and have private lives. But the one who's garnered the most press on their decision is Marissa Mayer. Most people have never heard of Hubert Joly, Brian T. Moynihan or John Berry.
Women are so rare in the upper echelons of power -4 per cent of Fortune 500 CEOs — that their every move is closely watched, harshly judged and often found wanting. Especially when it comes to how they treat other women. It certainly doesn't help that Mayer built a nursery next door to her office for her young baby, overlooking how childcare for all employees would be a valuable option.
An article in the Washington Post on 'Queen bee' CEOs get scrutiny and flak while 'king wasps' get a free pass commented, "Mayer has been derided as the "Stalin of Silicon Valley" and depicted by bloggers as a "Queen Bee" who has clawed her way to the top of the heap and is busily shoving other women off with her turquoise-fringed Manolos. (Yes, several articles have been written about the kind of shoes she wears, her trips to the salon for blond highlights and her love of Oscar de la Renta.)" It's almost as if we expect men to question family friendly practices, but we expect more from our leading women. With that we let men off the hook for employee friendly management and judge women too harshly.
A man showing many of her qualities would be seen as 'driven, passionate and strategic' and we might have just accepted her decision as bad 'business as usual'- the same way it was portrayed for the other 3 male leaders.
At Female BreadWinners, we believe both women and companies keep vigilant on unconscious bias. All decisions made by women leaders should be judged fairly in the given context – and not blown out of proportion simply because they are female.
Do we expect too much from our female leaders?