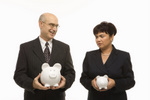 According to research from the Centre for American Progress, the average American woman in full-time employment loses $434,000 in income over a forty-year period due to the gender pay gap. For women with more education, it's even greater.
Women with at least a university degree lose up to $713,000 less over that forty-year period made up from the cumulative effects of lower starting salaries and their related benefits. The statistics aren't much better in UK, with the wage gap currently hovering around 15% (21% in private sector versus 12% in the public)
This pay gap accumulates for a variety of reasons, but chief among them is that pay rises are typically given as a percentage of current salary, leaving women further behind each year. A new employer will typically ask a job applicant for a salary history when determining his or her starting salary, which further limits women's upwards mobility.  These figures don't even take into account part-time workers where the disparity is even greater.
Certainly, women are twice as likely as men to be in part time employment. Since few jobs offer part-time flexibility, they tend to pay disproportionately less because there is greater demand for them – but in reality this does not explain fully the gap in pay discussed above.
It is important to note that a gender pay gap exists in the first year that women graduate at university, at a point in their lives when differences in work experience between them and their male colleagues cannot realistically play a large part in determining pay.
The American Association of University Women found that women who go to the same kind of university, with the same degree, getting the same job with similar workplace flexibility perks, and who have the same personal characteristics – such as age, race and number of children – still earn five per cent less than their male colleagues in their first year of school alone.
Ten years later, even if the women have not taken a break for child rearing and kept pace with their male colleagues, this widens to 12 per cent according to statistics published by the American Association for University Women. Clearly, the gap cannot be conveniently blamed on the 'lifestyle choices' a woman has made. I suppose the small silver lining is that according the Office for National Statistics, the pay gap in the UK is at its lowest point ever for full-time workers, now at just 10 per cent for full time workers and 20 per cent for all workers in all categories.
Similarly, the US Bureau of Labor Statistics reported that the wage gap between men and women has narrowed so dramatically that it is now the smallest on record. There is even evidence that young women under thirty in many metropolitan cities are earning slightly more than men their own age. In the US, in 2011 it was discovered by the Bureau for Labour Statistics that single, childless women in their twenties now earn eight per cent more than their male peers.  The UK's Office for National Statistics found similar disparity favouring young women.
However, before we congratulate ourselves on pay equality achieved, this is not real evidence of long term pay equality that continues as these women age. Instead, it is due to the widening gap between the academic achievement of young men and women today. There are simply more women working in professional occupations than men in the same age bracket, which is why the average earnings for women of this age group surpasses their male counterparts.
Additionally, recent recessionary job losses from many traditionally male industries, such as financial services and construction, play a part. Indeed, this 'equality' stops as women enter their thirties and begin to have children, at which point the pay gap significantly penalises working women over the age of 40 who, according to ONS data, take home only 73 per cent of male earnings.
For more on how gender disparities affect families with a female breadwinner, get your copy of Female Breadwinners: How They Make Relationships Work and Why They are the Future of the Modern Workforce.
Make sure you get what you deserve – if you are about to negotiate your salary for a new job or a pay rise you will want to listen to our upcoming webinar on negotiation on Monday January 23rd  "Getting What You Want: Negotiating for Professional Women to Ask and Get More than You Thought Possible"