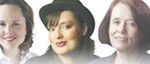 We were so pleased to see how much great cross-organisational networking went on both during and after the recent live event for the New Girls Network. If you attended we hope you found the event both useful, inspiring and as much fun as we found it in presenting. We'd also like to thank Barbara-Ann King, Fiona Thompson, Margaret Heffernan and Fiona O'Hara for their candid and valuable contributions on the day.
We are happy to discuss internal presentations if you think this material would resonate with your audience. We'd love to work with organisations to encourage women to own their "Super Powers".
Here's what we discussed at the event:
Dr. Anne Moir, author of BrainSex, discussed the biochemical differences between male and female brains. She explained why so many gender based strengths get their basis in evolutionary biology and how brain plasticity makes sex differences important, but not the sole determinant of behaviour.  Find more about Dr. Moir's workshops at www.brainsexmatters.com
Dr. Suzanne Doyle-Morris, author of Beyond the Boys' Club and Female Breadwinnners, covered how to own your 'Inner Superwoman'. Using the latest business research she detailed how women's strengths in people development, clarity of expectations and role modelling, both drive profitability and create workplaces with integrity. You can download a free 'Career Savvy Checklist for Female Breadwinners' or find out more about Dr. Doyle Morris' masterclasses at www.femalebreadwinners.com.
Deborah Frances White humourously explained how keeping your interactions in the 'Charming High Status' quadrant of behaviours, with a "still head and a smile", is actually easier for women than men. Using your natural charisma will produce the greatest results when it comes to influencing others. You can find out more about Frances White's work at www.deborahfrances-white.com
"I found the New Girls Network be one of the most intelligent events of this type I have attended. Intelligent, confident women – powerfully and positively talking to the intelligence of other women – a winning combination". – Helen Dye, Cambridge University Development Office