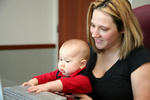 In the UK, there are currently 14.4 million women in employment, a record high, according to The Telegraph but the Government want to see nearly 500,000 more by the beginning of 2016. The Chancellor, George Osborne, stated: 'Today's Treasury research shows that women are playing an ever larger role in the economy, but it also makes clear that there's more we can do to support women into work'. So how exactly does he plan to incentivise women back to employment?
The Government proposes to reform childcare to support families. £2million would create 50,000 childcare places across the country; and introduction of tax-free childcare would cover up to 20% off childcare costs for a maximum of £2,000 for each child. As an added carrot, the current government would extend the New Enterprise Allowance and Childcare Business Grants, which provided money to prospective childminders to start up nurseries in England. So far, these initiatives have generated around 4,000 new childminders creating 29,000 childcare places.
Childcare is a hot topic amongst all parties with Nicola Sturgeon, in Scotland last month promising to double the amount of free childcare available for three and four-year-olds taking the number of free hours from 16 to 30 every week if the SNP wins the next Holyrood election.
The proposals have evoked mixed reactions: Minister for women, Nicky Morgan, said: "I'm delighted more women are working than ever before – in the last year alone 350,000 extra women have been employed, giving them greater financial security. Women are making huge strides in the economy and it's vital that their contributions are recognised."
But not everyone sees this as progress. Laura Perrins, from campaign group 'Mothers at Home Matter', said: "Osborne fails to understand that mothers caring for children are working. They are caring for their kids." She felt paid daycare places stigmatises stay-at-home mothers by suggesting paid work is the best way women can contribute.
We believe woman shouldn't have to choose between their career and their family. The proposals encouraging stay-at-home mothers to go to work follow last year's changes to child benefit which forced many back into the workplace.