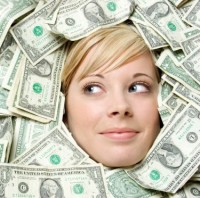 Marketplace.com recently looked at 'Being the breadwinner: A blessing and a curse'. In it, Mackenzie Dawson and I discussed how to react if your male partner spends too little or too much. This is a conundrum made even trickier when you add in gender politics. I've coached a banking executive whose lower earning husband didn't feel he deserved the villa holidays she wanted for them. He insisted they go camping instead. Their compromise? One luxury and one camping holiday a year, that they both paid for respectively.
Equally, I've worked with female clients who felt their other halves were a bit too self-indulgent with yet another set of golf clubs, studio recording equipment or lavish nights out with the boys. Have an ongoing and honest dialogue with your partner; people are fluid so continually checking in that it still works well for both of you is vital.
Dawson asked me for my top tips for dealing with partners who spend too much or too little:
Lower earning partners may question if they should be spending your earnings. Some will feel reticent to spend it since they haven't technically earned it through their own paid labour – spending 'her' money can be a threat to their masculinity. A great way to change their attitude is to ask how they would feel about you spending their money if they were the main earner? "Often men can see the double standard they are imposing on themselves when they realize they would be happy to provide for her."

On the other hand, potential tensions arise if they are a bit too free with the cash; talk about your joint goals as a family. Ask him about his ideas for the 2 or 3 big goals you have for the year. You each pick a goal plus (new bedroom furniture or a golf trip with the boys) a third you jointly pick, such as a family holiday to Greece. Determine a limit on how much you'll spend on each goal. Then when decisions over cash come up; ask how spending that money gets you closer or further away from that goal.