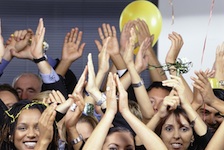 Right now, professional women are delivering great achievements at work and in their communities. Women don't need to become like men to get ahead and treating the advancement of women as a problem misses their potential. Women have innate talents that can make work more fulfilling and supercharges performance.
Have you ever noticed how women who act with authenticity are the ones who really get ahead whilst also seeming to enjoy the ride? They are the ones who make great role models, who others want to learn from and who get the best out of their clients and colleagues. They don't apologise for who they are – rather they relish being a gutsy and exuberant working woman among sometimes too staid colleagues.
Unleashing abilities women already have we can catapult women from their existing successes to mass performance. Everyone benefits from this: colleagues, organisations, the economy, our community as a whole and of course women themselves.
Women often have a natural head start in certain skills that can benefit both society and business. We like to call them 'superpowers'. The skills can include diplomacy, empathy, deep listening, collaboration, lack of judgement-clouding ego, ability to read faces, lateral thinking, intuiting situations, charm, charisma, humour and a wider perspective not seen frequently enough in the halls of power.
Certainly in my own coaching and workshops, I notice the more I can help a woman become a bigger, bolder more confident version of herself – merely capitalising on what she is already doing well; the higher she can progress. And interestingly, the more she does this, the more attractive she becomes to colleagues and clients around her – who doesn't want a bit of her 'magic dust'. I recently had a new executive coaching client get in touch simply because of the massive changes her good friend, a former client had made in her own life. The new client paraphrased that old chestnut from 'When Harry Met Sally' when she said upon our introduction "I don't know what you did with her….but I'll have some of what she's having!"
On May 10, join Female Breadwinners as we pair with Deborah Frances-White and Dr. Anne Moir at Leicester Square Theatre to unleash your own 'superpower' revolution.  Three experts who routinely work with audiences in blue-chip companies will help audience members unleash the 'why, what and how' of successful women. To reserve places for yourself and colleagues, go to our dedicated New Girls Network website.
We are running an introductory FREE webinar next Monday 2nd April, to find out more and book your place on the webinar click here.