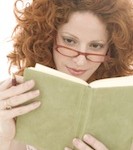 Like many of the professional women I work with, I am an avid reader. One of the things I love best about reading is discussing books and sharing recommendations with like-minded friends. I'm a huge fan of great fiction, as you might be able to tell from our Fiction for Female Breadwinners pages. However, to stay current and inspired in my own field, I keep up with the best of non-fiction as well.  This month I'm recommending some of my favourite books on a topic highly relevant to new working mothers – maternity leave and maintaining your career as a new mother.
Misconceptions by Naomi Wolf: Over the years I've given this book to several expectant friends. Wolf explores the commercialization of pregnancy and the conflicting societal messages aimed at expectant mothers. There are often unhelpful and contradictory mix of unrealistic sentimentality and dangerous half-truths. She explores how a mother-friendly childbirth is often in conflict with hospital friendly practices-and the shock of the post-natal experience.
Off Ramps and On Ramps by Sylvia Ann Hewlett: This groundbreaking expose lifts the lid on the myth that "a year or two out of the workforce won't hurt my career." I always advise my coaching clients who are about to take maternity leave to stay in the game largely as a result of Hewlett's research. Her research proved that while the vast majority of women expect to get back into work after taking a career break to raise children or help with ageing parents, most had problems getting an 'on-ramp' back into rewarding jobs. Those who were 'lucky' enough to find roles often returned to jobs far beneath their capabilities. This is a waste for them, but also for companies hungry for good talent and society on the whole. A must-read for any woman considering a career break.
The Feminine Mistake by Leslie Bennetts: This book addresses the fallacy that it's best for families and children if mothers stay home.  Bennetts explains that focusing our praise on stay-at-home mothers ignores the surprising advantages of paid work and the unexpected psychological toll of giving it up.  She convincingly argues when women gamble on dependency, most end up on the wrong side of the odds, missing out on the intellectual, emotional, and financial, and even health benefits, of self-sufficiency through paid employment.
We will be reviewing more non-fiction books for Female Breadwinners on a monthly basis. In the meantime if you are looking for a novel check out Fiction for Female Breadwinners.