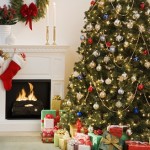 Before the new Christmas advert for Boots came out, I had heard about it while in a conference for working women. One of the professional women attending was from the high street retailer. She mentioned their new campaign would recognise: "How Women Make Christmas Happen". There were quite a few nods of agreement in the room, and one working mother who looked exhausted slumped in her chair dryly asked: "Yes, it's true – and can we skip it this year?" Her suggestion was met by lots of laughing agreement.
It reminded me how when thinking about how the 'double shift' professional women work becomes a 'triple shift' at this time of the year because of the chores and planning involved in pulling off an 'effortless Christmas'!
As described in a Daily Mail piece by Eleanor Harding entitled "On the 38th Day of Christmas":  "There are traditionally 12 days of Christmas – unless you're female, it seems. According to a survey by the Clothes Show Live, women spend an average of 300 hours, or 38 working days, preparing for the festive season, a study suggests. More than a third of that time is spent trawling shops and the internet for perfect gifts for partners, relatives and friends. On average, women start researching their presents, food and decorations in the middle of October. Some men, meanwhile, fail to buy their presents until Christmas Eve and the average man only tends to start shopping halfway through December."
The study also showed regional difference with women in Manchester spending 124 hours holiday shopping alone compared to 'just' 77 for Londoners. I think of shopping as a huge chore and time away from my passion for reading, so try to do as much as possible ahead of time…and delegate all food shopping to Geoff. We spend a good deal less time on shopping – but probably more time on cooking as we begin to bake bread and make festive ice-cream flavours as early as October for freezing. But we also enjoy cooking – whereas shopping leaves me cold.
When I finally saw the Boots commercial after it aired, I was indeed reminded of how much 'invisible work' gets done by women. On the hallowed morning itself, for example, my mother's in law's gift is as much a surprise to my husband as it is to her…and I doubt I'm alone in that.  Within the clip, I particularly liked the stamp made for 'his' signature on all the stacks of Christmas cards. This resonated as historically that has been the one contribution made by Geoff to our 'Xmas correspondence'.
This year, for the first time ever, I have given up on handwritten cards in favour of those with a few photos of the family and a message about what we were up to this year – all printed ahead of time by www.vistaprint.co.uk. A good friend of mine uses Ballistic Blue to get hers done which even allows you to download your contacts list and pre-print the stationary with both yours and the recipients addresses. Next year…..
I can't complain too much however, as Geoff and his mother seem to love cooking and will do all aspects of the main meal, as well as keeping us all fat and jolly over the season. The Doyle half of the family will indeed be well fed but as always for Americans celebrating the holiday in the UK, we will however be slightly quizzical as to the actual difference between Christmas cake, fruitcake, Christmas pudding and mince pies all seemingly borne of a national dedication to the same mix of desiccated fruits and alcohol.
Before we get too exhausted, it's not all household chores that take our time over the festive period.  According to a survey by Boots, women spend over 450 minutes (over 7 hours!) just getting ready to party during the festive period! When I first read that, I couldn't identify it until they broke it down by the fact that most women will go to an average of 6 parties over the season: including the Office Party, their partner's Company Party, Christmas Eve, Christmas Day, Boxing Day and New Year's Eve – suddenly the timing seemed much more realistic – particularly for a party! Particularly when you looked at how the time was divided among 'ablutions' (has to be one of the greatest words ever!) So what takes so much time? 120 minutes in the shower or bath, 130 minutes styling hair, 90 minutes applying makeup, 60 minutes painting nails, 60 minutes deciding what to wear (though usually I'll multitask that while in the shower)
We hope that however much of the work you do this Christmas, you have a wonderful time and Santa does his part by delivering the gift you deserve. Happy Christmas from all of us at Female Breadwinners.
In case you haven't seen the advert – Here Come The Girls to Make Christmas…