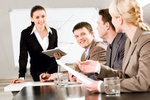 Sarah Dudney of Lockwood Gibb  follows up on our previous post on the nature of the work behind Non Executive Directorships. When talking about using an agency to help find these coveted roles, Sarah says:"Being on the right radar is a function of mastering the network that surrounds decisions to appoint board member. Corporate brokers are good sources and often know more of the right people than you will on your own.
Company secretaries are good contact points but from my experience on the receiving end of CVs and letters to headhunters they use there are some very distinguished headhunters in this space who have decade long track record namely Dr Anna Mann and Carole Leonard.
Gaining access to these people needs careful preparation.  Some NED roles are advertised in the FT on Thursday.  Others appear sometimes in the Economist.
Other recruitment agencies are moving in, wanting to capitalise on the need for build better female representation and extract value from this and perhaps charge you as an individual looking for these types of roles. The fees can be high, but they can save you time by giving you an appraisal of your chances and what you need to do to be a more attractive candidate in future.
If you are considering working with an agency to find an NED, the first question to ask is whether this agency can talk through success stories as well as their less successful candidates – are they honest and open?   Will they even give you time of day by returning your calls and requests for information?  Will they meet you and give you a fair and honest appraisal of your skills and areas for growth?
Finally my conclusion is that although NED work is seen as lucrative for career advancement.  It is actually hard work, which starts not with your first appointment but when you decide you want to pursue this as a career avenue.
Agencies and headhunters (guilty as charged) may ply you with coffee and compliments. However,  the best results in the preparation may be your own footsteps campaign of seeking out current NED's and asking how they got there."
For more information you can reach Sarah direct at Sdudney@lockwoodgibb.com