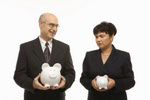 Because getting your full monetary worth is so vital for women who are the main earners we often report on equal pay at Female Breadwinners. Therefore I was intrigued hear about a new website focused on pay issue and the gender pay gap. The site was created by Sheila Wild who led on Policy at both the Equal Opportunities Commission and the Equality and Human Rights Commission.
Equal Pay Portal is for anyone who has anything to do with equal pay, and its aim is to provide easy access to the wide range of material that is available, but can be hard to find – statistics, statutory instruments, codes of practice, good practice guides and advice for workers.
EqualPayPortal aims to:
Help people understand what the gender pay gap is and why it is a problem that needs to be addressed
Provide a single source of current and recent information on the gender pay gap
Equip individuals and organisations to deal with equal pay issues
Promote good equal pay practice
Signpost sources of expertise, including conferences and seminars
Sheila Wild says:
"There is a huge amount of information out there on equal pay, but it has too many owners, and can be difficult to find, even when you know what you are looking for. I wanted to create a portal which allows users to get up to date information quickly and easily."
The site is jam packed with useful information so if you need any research material on equal pay this should be your first point of call. Read more articles on pay from Female Breadwinners and if you need tips on how to negotiate for what you are worth check out our webinar recording "Getting What You Want: Negotiating for Professional Women to Ask and Get More than You Thought Possible".