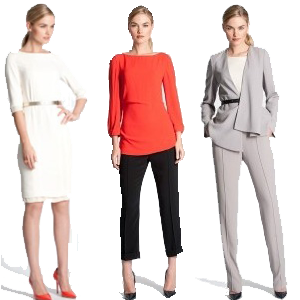 As we finally start to see some Spring weather your thoughts may be turning to how to stay looking polished and professional over the summer months. Whilst business dress has relaxed in the last few years there are still some areas that are often undefined, such as whether bare legs are appropriate, should you wear sleeveless dresses or open toe shoes?
Female Breadwinners has enlisted the help of Maria Sadler from Capsule Wardrobes to give us some tips for executive dressing in the heat…
At Capsule Wardrobes we deal with issues like these on a daily basis when we are creating client Capsules. We will be discussing these issues and giving our top tips for surviving summer in the City and on the beach at our Capsule Wardrobe Summer Event on 22nd May in Central London.
Our clients come from a variety of industries and range from junior manager to Board director. Whilst budgets may differ our advice on business dress will be similar for both.
Firstly think about situational appropriateness. Is there an office dress code and are these areas covered? If you are a in a role visiting customers what is your customer's dress code? It is always better to err on the side of caution. If you are visiting a client and don't know their dress code wear tights and a jacket – if women in their office are in sleeveless tops or dresses you can always remove your jacket. In your own office take a jacket or knit that you can put on the back of your chair ready for any unplanned occasions where you need to be more formal.
The second consideration is your personal comfort zone. Anything that makes you self conscious should be avoided. So if you hate your upper arms keep them covered. However, if like "sleeveless poster girl" Michelle Obama you have toned arms, then feel confident showing them off. The Telegraph Stella Magazine recently said "Long sleeved dresses are the thinking woman's style weapon" and at last designers are realising that what many women want – even in the summer months – is dresses with sleeves.
Open toed shoes, if acceptable in your workplace, should always be accompanied by pedicured feet that you are happy to be seen. On the other hand if you hate your knees and know that they won't look good bare then wear tights. There are so many good nude or 7 denier ones around now that look like your legs but better.
If the temperature really heats up swap to natural breathable fabrics like cotton and silk or mixes such as viscose/jersey, silk/jersey and linen/silk. Whilst perfect fit is always important, in the heat anything too tight or clinging will just make you feel hotter. Simple lines and less fuss are more comfortable too; avoid tight belts and shoes.
If you would like to hear more tips about summer dressing in the city join Capsule Wardrobes at our Summer event on 22nd May in Central London.
We will also be discussing:
what most women dread – choosing swimwear
how to make your make-up last in the heat
packing for 2 weeks with one bag
Our guest speaker is award winning author Anne Zouroudi who knows all about living and working in the heat of Greece where her novels are set.
Bring along your summer dressing dilemmas – we hope to see you there.