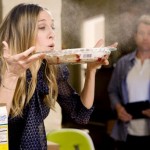 Now that my new book "Female Breadwinners" is out I am delighted at how much it resonates with the women who have got in touch. The timing couldn't be better with the world waking up to the role of women who earn the majority of the household income.
This month sees the release of the new movie "I Don't Know How She Does It" starring Sarah Jessica Parker. I discussed the responsibilities and advantages Female Breadwinners have in Sunday's Telegraph, in an article entitled "Female Breadwinners: When Mum makes more" by Julia Llewellyn Smith. It highlights how women still do the majority of household work – even when they also have a full time job.
Some of the statistics quoted in the article are eye opening, for example, by 2015 75% of graduates will be female and as I was quoted  "It's a radical shift in society. It means couples are going to have to rethink the way they relate to each other, and companies will have to get much more serious about how they treat their talent."
Couples with a stay at home dad also face danger in their relationship, with the man feeling insecure and resentful about his status he may turn to another stay at home mum for comfort.  According to a recent study by Cornell University, men whose wives out-earn them are five times more likely to be unfaithful than average.
If you are a female breadwinner you will know the difficulties that this role presents both in and outside the home, what you may not be aware of is that you are not alone. When I gave a talk recently, I asked all the female breadwinners to stand up. Nearly all the room did. Everyone gasped and was saying, 'Not you, too!'
This month I begin a webinar series focusing on the challenges and opportunities faced by female breadwinners. You can reserve your place here, and please do let me know if you have specific questions you would like answered. You can also order your copy of Female Breadwinners here.
Picture, Juggling act: Sarah Jessica Parker in I Don't Know How She Does It (LMK)