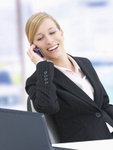 Last year, we ran a discounted offer on six executive telephone coaching sessions exclusively for subscribers to the monthly Female Breadwinners Report. We opened it to the first six potential clients to take up the offer. The response was overwhelming.
I'm delighted to report that since the start of 2011, our coaching helped these six professional women meet a range of goals including:
sidestepping their current boss to move to more interesting divisions
leaving unrewarding and unchallenging jobs
communicating better with colleagues working in remote locations
hitting the ground running after a maternity leave
negotiating a higher daily rate for a new 3-year contracting role
writing about their ideas in industry publications
starting a consultancy in a completely new sector
As always,  goals were specific to each client and part of a much larger plan that we first clarified and then put into actionable steps.
I'm delighted with their success as it shows that the goals of Female Breadwinners resonates with working women. I know we are on the right track. Over the holiday period, Enterprising Women Magazine named Female Breadwinners as an honouree for their 2012 awards.
Therefore we are again running the discounted coaching offer for an additional six women  – and for as low as £879 + Vat rather than the normal price of £1179 + Vat. This is over a 20% discount. 
In addition, we are now able to offer a 3 payment option, so you can start your coaching with three installments of £368 (inclusive of vat)
I hope you'll decide 2012 is the year to invest in yourself and your career.
This special offer is limited to the first six FB monthly report subscribers who respond for a place and this page has only been promoted to you as a subscriber.