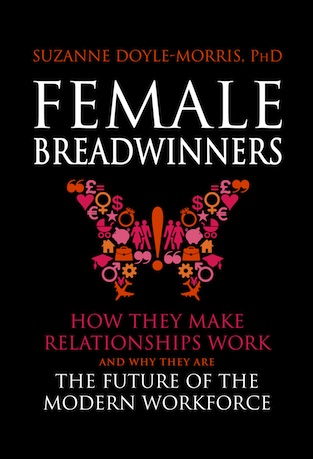 Last Monday night, I presented on the rise of "Female Breadwinners" at a large event for Women on the Wharf, a cross-organisationsal network based in Canary Wharf. The theme of the evening was 'Women and Money' and the event was sold out.
Karen Ward, a chief macro-economist for HSBC presented first on how improving women's literacy rates brings economic stability. She also detailed how China and India are facing a future of tens of millions of spouseless men, due to sex selection against female babies, which could lead to civil and economic unrest in those countries in years to come.
Sophie Jane William of St. James Place Wealth Management talked about how women can ensure personal economic security as they age, reminding us the time to act is now…not when retirement is one pina colada by the pool away. Fascinating stuff, taking us from the macro to the micro in a single evening.
I gave a preview on how business much adapt to a growing pool of talented women as detailed in my new book, "Female Breadwinners: How they Make Relationships Work and Why they are the Future of the Modern Workforce".  The book will be officially published on September 1st, so the evening served as a 'sneak peek' of the themes in the book including managing male egos, the burden of financial responsibility women feel but also how most women wouldn't trade roles with their male partners!
Organisations must change not just for these women but also for their partners….men who most often also work for pay, but who need greater flexibility than ever before. Plus they want to have a closer relationship with their children than they had with their fathers.
To demonstrate the prevalence of female breadwinners,  at one point in the presentation I asked everyone in the audience who had ever earned more than their partner to stand. Laura King, a Partner at Clifford Chance and of one of the key organisers of the event, called that single request  'the pivotal moment of the evening'….. as almost every woman stood up! There were audible gasps of surprise from women who couldn't quite believe how many other women were standing next to them.
Too frequently we think being the main earner only affects us, or that high flying friend from university, or one of our ambitious colleagues. They truth is these women are so arecognisable because so many of us already are already female breadwinners! That's why I call this trend 'the big secret no one is talking about'.
Statistically, about 1 in 4 British women who lives with a male partner is the main earner – but I suspect the number is much higher among very well educated women who work in professional fields.  As traditionally male-dominated fields think how they will retain the talent of tomorrow,  they will have to engage with female breadwinners like never before.
On the night I made an offer to all in attendance of a special discount on pre-orders of "Female Breadwinners". I am extending it out to all readers of the Female Breadwinners blog. For the month of July ONLY, you can pre-order your signed copy of "Female Breadwinners" to be sent to you when they are hot off the press for just £10 or get an even better deal and get both "Female Breadwinners" and "Beyond the Boys' Club" for just £20. This is a bigger saving than you will get them for from Amazon. To place your order, visit: the special book discount page.