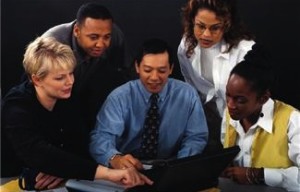 Frequently, I meet women on boards who feel excluded from socialising and even from some decision-making discussions. The presence of just a single woman often means male colleagues notice her gender more than her individual contributions. Hence, in our gender diversity work at Female Breadwinners, we work with companies to get more women on boards. Only a critical mass of women will enable each woman to advocate her own opinion and not be assumed to be representative of every woman's perspective.
Recent research done by the Wellesely Centers for Women concluded that it takes not one or two, but three women on a board to make a difference.  They reported, "The magic seems to occur when three or more women serve on a board together. Suddenly having women in the room becomes a normal state of affairs. No longer does any one woman represent the "woman's point of view," because the women express different views and often disagree with each other. Women start being treated as individuals with different personalities, styles, and interests."
This research is also corroborated by current trends in the media surrounding three top women directors – Marissa Mayer, Sheryl Sandberg and Anne-Marie Slaughter.  The Harvard Business Review, in an article on how these three women are driving the debate forward, reports, "First, we found that the number of mentions of these three individuals across the social web has increased eight-fold in the past year.  Further, when we looked at where the conversation is happening, we discovered the chatter is primarily taking place on Twitter….. Because Twitter is a platform for viral communication, where people express their opinions in the heat of the moment, if this were a brand or a country, it would suggest a major change was coming."
They are a great metaphor for the power of three, in that when you put three women on a board, or in this case, in a movement, they can become agents of change. It is too early to know the full impact Mayer, Sandberg and Slaughter will have, but early reports suggest that in their impressive advocacy for their own opinions, this trio is ultimately advocating for every woman.
Other reports, like women make better bosses than men and the European Union pushing for 40% representation of women on boards are clear indicators that we need at least three women at the top. Of course, women should not be brought on as tokens simply because they are women. To serve boards well, women need high-level corporate experience and the right skill set. These include bottom- line responsibilities and experience in leading growth.
Inclusive leadership teams will have to reach a bit deeper into the senior-management ranks to find the right candidates. Since corporations say they value "outside the box" thinking, they need to look outside the box to recruit women. For example, women working in government, media, entrepreneurs and the charitable sector could make great additions, with a fresh perspective. We must look beyond 'business as usual' for a set of female 'mini-me's' who look just like the guys for two reasons.
The first is practical; there are simply too few women who have headed up FTSE200 companies to draw from. But more importantly, if you simply look for women who have all the same experiences as men, you'll fail to improve the quality of the discussion and lose the wider perspective that makes these types of women so valuable in the first place.