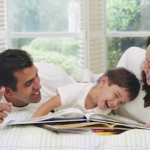 While myths abound about the female breadwinner, the truth is you wouldn't know one if she stared you in the face. I'm certainly one as perhaps you are. And I'd be willing to bet that far more of your friends are than you think. Unless she discusses what she and her husband do to earn a living, it is unlikely you would ever know she earns more than her partner. Many downplay their status and the reliance the family have on her income.
And why shouldn't she? Rarely is the press or public opinion favourable towards stereotypes about women who 'bring home the bacon'.
There is too frequently an assumption reminiscent of the 1950s, that wives who out-earn their husbands risk 'emasculating' their partners, rendering them powerless and disregarding their self-esteem. They throw their weight around at home and generally 'wear the trousers'.
That image couldn't be further from the truth. In fact, most women take pains to tell their partners how grateful they are and indeed make sure they also share the domestic chores with their partners.
In this age of dual career families, what type of woman marries a man knowing the burden of breadwinning will primarily be hers? What are the benefits to her? Certainly, most women I work with do not anticipate the role; they became primary breadwinners due to a partner's illness, disability or unemployment. But contrary to what you might expect, many women were primary breadwinners by their family's choice. The reality is most women are working and families today need a dual income to survive. What's changing is how much more she is bringing home.
For the purposes  writing Female Breadwinners: How They Make Relationships Work and Why They are the Future of the Modern Workforce I focused on the experiences of women who had been the main breadwinners for at least three years. Demographically, women ranged in age from early thirties to recently retired women in their sixties. They were of different ethnicities and cultural backgrounds. The women interviewed were primarily British, with several American and continental European women taking part as well.
Some women I interviewed earned just over half the family income. Others brought home 100 per cent of the money. Some had husbands who worked full time and others were married to men who ran the household to help facilitate her success. As with all couples, some seemed happier than others with their situations.
Some of my findings echoed an Australian study, entitled 'Female Breadwinner Families" from the Melbourne Institute, which found that the majority of breadwinning women (70 per cent) they interviewed were in the situation due to economic necessity rather than a commitment to equality. The Australian husbands in this 'necessity' category had less education and less experience in professional and managerial roles. Additionally, these men were not committed to gender role reversal and were less involved in either housework or childcare. They may well have wished for a return to the traditional male breadwinner role but the changing face of the labour structure meant this was unlikely to happen for them.
By comparison, in the same study, couples who were more open to gender equity and the economic and family benefits that a breadwinning wife could offer tended to be highly educated and likely to both have spent time in managerial positions.
Perhaps not surprisingly, when these couples had children, they had more children but spent less time on child care themselves and relied on paid help. They also spent less time on housework, again using their money to buy support. Indeed, many of the women I spent time with used a variety of support mechanisms including family members, nurseries, nannies, child-minders as well as food delivery services and paid cleaners. In fact many of these service industries have grown exponentially in the last two decades simply because working women no longer have time to provide these undervalued services to their families.
Join me for Female Breadwinners: Managing A Successful Career and Relationship as the Main Earner, at Women In Technology on March 9th. Click the banner below for more details and to book.