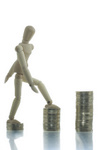 If you are in the process of making your New Year resolutions today here are 4 top career resolutions you should consider adding to your list:
Raise your profile – If you want to take your career to the next level there is no point in being a well kept secret. There comes a time when keeping your head down and doing quality work is not enough, you need to make sure you are noticed. Speak up in meetings, take credit for work you have done and offer to present for your team or company.
Network – Consider managing relationships to be the biggest part of your job. Identify key players and find out where you can meet them and who you know that can introduce you. This is something men do quite naturally but we women can feel awkward about, but remember you can return the favour in the future.
Take Risks - You will always regret that which you didn't attempt. Think very carefully before turning down a challenge from a senior member of staff. Taking risks and succeeding can be a great confidence booster too.
Improve your Image – Always dress 'up'. It's far better to be overdressed than underdressed. Dress for the role you want not the one you have so that your boss can visualise you in the role.
I talk in much more detail about all of these in my book Beyond The Boys' Club so maybe you should add reading that to your list too! You can find more articles on career planning here. Wishing you a very happy New Year from the team at Doyle Morris Coaching.