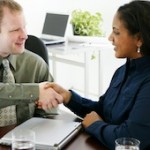 Maybe you have achieved all the goals you set yourself in your current role and want to get on the next rung of the promotion ladder. Perhaps you've hit the proverbial "ceiling", survived the latest corporate cull or want the courage to get out of your current rut. Or maybe you are stagnating in your current role but don't see any room for growth.
Whatever your reason for wanting to move on, don't be careless when it comes to your future. Develop a career plan that will deliver. Far too many people derail their hard earned careers because they feel overwhelmed by a job search and take the first opportunity that looks half way decent. The answer is not to upload an 'everything but the kitchen sink' CV on every executive recruitment website and hope your prayers will miraculously be answered. You will naturally be more focused than that.
Top 3 considerations before making a job move:
What do you next want to achieve? It can take a fair amount of soul searching to find the answer to that essential question but be bold – what would get you out of bed in the morning with a spring in your step?  Do you want to step up to managing a team of direct reports? Do you want to switch from IT into the charitable sector? Do you want to help launch a new product line in an emerging Asian market? Until you have some firm conviction it's unlikely  you'll build a career plan that a recruiter or a prospective employer will find credible or inspiring.
In what types of environments do you thrive? For example do you enjoy the cut and thrust of a corporate environment or the relative informality of a fast-paced start up? There are many personality tests you can take, for example Myers Briggs, Belbin Team Roles and Clarity 4D to name a few. These can help you identify your motivations and more importantly what kind of career environment would bring out the best in you. Be brave and ask friends and colleagues for 5 words they would use to describe you. It could draw out some surprising and intriguing insights.
What's your specialist offering? What skills do you have – both technical and interpersonal, that organisations would pay for? What sector knowledge or industry experience makes you unique? Have you worked on a project that was characterised by rapid growth? Have you worked in an industry as it came to terms with new legislation? Have you established client relationships with people who might follow you to your new company? What have you achieved in your previous roles that demonstrate your future potential? Do you need additional training or ongoing executive education? Update your LinkedIn profile with industry relevant keywords and search for LinkedIn contacts of anyone who works in an industry or company you are considering. Simply asking a contact for a coffee or lunch is a great way to pick their brains.
Guest article by Janet Davies, founder of www.myexecutivecareer.com – the premier career planning resource for aspiring and established senior executives.  Join Janet and I on March 12th at 8PM for our joint webinar – The Recruitment Game for Professional Women: How to Get Noticed by and Work Effectively with Headhunters