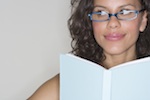 Following on from last month's book reviews, I thought  this month, I'd share a few great reads that challenge stereotypes of modern women to expose the good, the bad and the ugly sides to modern femininity.
Female Chauvinist Pigs by Ariel Levy: I first came across Levy's clever and acerbic writing in the Sunday Times which was enough for me to pick up this slim volume on women and the rise of 'raunch culture'.  She details how young women choosing to appear on 'Girls Gone Wild', binge-drinking and adopting the playboy bunny logo as a symbol of liberation is not the post-feminist shortcut to cool. Rather the increasing culture-wide obligation for young women to act and look like porn stars show just how much further we have to go to achieve true equality. A must read for anyone wondering why some modern women equate the worst of traditionally male behaviour with female emancipation.
Catfight by Leora Tanenbaum.  One of single most asked questions I receive at speaking events is why some women at the top appear to "pull up the ladder" after them.  This book is an insightful foray in the dispiriting women's world of female aggression, rivalry, and competition surrounding everything from diets to dating, from the boardroom to the delivery room. This expose into the darker side of sisterhood asks how much progress we have really made when competition among women is so prevalent, pointless and ultimately undermining.
The Whole Woman by Germaine Greer: Modern women owe much to the rebellious Greer who is as eccentric and controversial as she is inspiring and provocative. This more recent book addresses her concern regarding widespread complacency on the part of younger women into settling for a dubious version of equality.  This book is a compilation of 35 essays from her formidable career as a journalist and feminist advocate on topics ranging from 'girl power', self-mutilation, housework, and abortion. As always, an incisive and passionate read.
We will be reviewing more non-fiction books for Female Breadwinners on a monthly basis. In the meantime if you are looking for a novel check out Fiction for Female Breadwinners.