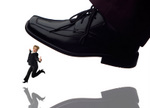 In my work as an executive coach to professional women,  I've worked with many clients who have recently been made redundant or senses it was time to move on, before the axe fell.
There are certainly changes in the office atmosphere to watch for. You can listen to rumours of reorganisational changes, stay on the right side of your boss and watch if colleagues are shuffled around or let go.
However, what are the other give away signs that you will soon be receiving your P45?
Three of the stealthiest signs to pay attention to are…
You are suddenly being supervised very closely – especially if this hasn't been the case in the past. It could mean a loss of confidence in your abilities.
Your responsibilities are being re-allocated or your workload has become significantly lighter. There is a good chance your boss is making sure these tasks will get done when you are no longer there.
You are being left out of the information loop. If invites to meetings you would normally attend aren't forthcoming, or you are the last to be informed of changes, this could be an indicator that you are on your way out.
If you notice any of these signs you should prepare yourself for that dreaded meeting. If you need help to negotiate your way out or build your confidence to move on, have a look at our webinar library for raising your profile or contact me to arrange a coaching session.